Coracle has been deeply committed to the work of racial healing from our inception; God's Kingdom encompasses all things, people, races, and cultures, and it breaks God's heart to witness the systemic and sustained devaluation of men and women of color created in His image that has occurred in this country for over 400 years.  We still have a long way to go towards healing the deep wounds inflicted on our hearts, minds, finances, policies, and institutions by slavery, Jim Crow, mass-incarceration, etc., etc.  The world is broken.  AND Jesus is real, which inspires and enables us to be his transforming, redeeming presence in those very broken places of the world.  
The Corhaven Graveyard is one example of how something evidencing the deep racial brokenness of America (an abandoned slave graveyard), can– with much prayer, collaboration, and hard work– be renewed into a place that honors all God-given life and enables people of all stripes to encounter His loving, healing presence.  Out of the Corhaven Graveyard grew the work of the Repentance Project, and you can learn more about both below.
All of our hearts need to encounter this love and healing in order to be whole; many of our hearts and minds also need renewal when it comes to our participation in the God-honoring work of racial healing.  
Some of us know we need to grow but don't know where to start… You are welcome here.
Some of us feel mired in guilt but are not sure how to move forward in a healthy way… You are welcome here.
Some of us have been on this journey for a while and want to know how to go deeper… You are welcome here.
We hope the resources contained below will bless you as you seek to cultivate a heart that breaks for the things that break God's heart.
A LAMENT SERVICE
REPENTANCE PROJECT
"When God Said 'Yes'" by Bill Haley:  The dramatic and uplifting story of the Repentance Project's founding.
Repentance Project Resources:
An American Lament

:  a 50-day devotional created to help all Americans see clearly the legacy of racism through the lens of our Christian faith.

An American Lent: 

an adaptation of "An American Lament" that orients around the Christian Journey from Ash Wednesday to Easter Sunday.
CORHAVEN GRAVEYARD
Written
The Story of Its Founding by Bill Haley:  What would you do if you were given the bodies of the victims of a long and violent oppression perpetrated by your own people?
"Clearing Sacred Ground" by Sarah Kohrs:  The sacramental experience of working together to clear invasive plants from the Graveyard.
Video
A SEMINAR ON ANTI-RACISM & AMERICAN DISCIPLESHIP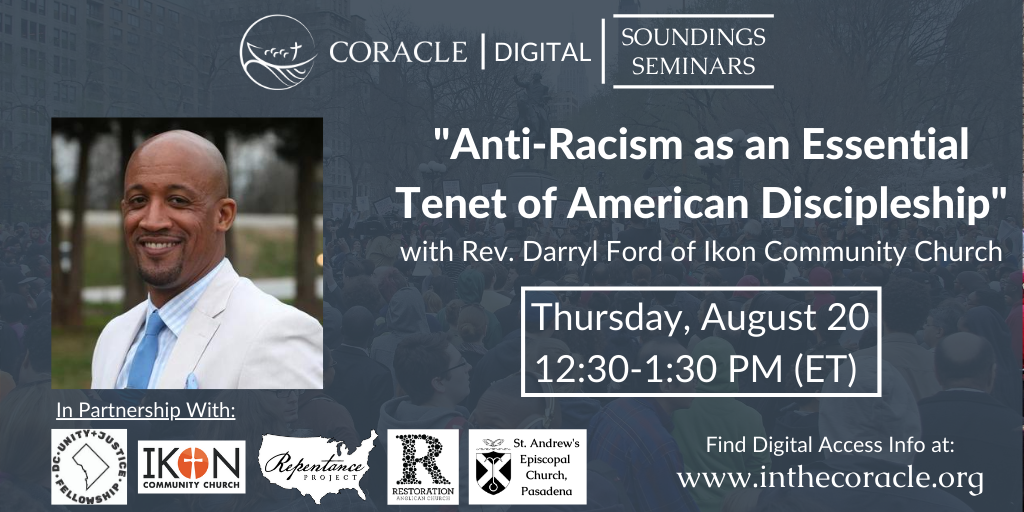 A full recording (available for video or audio) of Rev. Darryl Ford's August 20th Soundings Seminar on "Anti-Racism as an Essential Tenet of American Discipleship"
Other Essential Resources:
3 THINGS TO LISTEN TO
Seeing White Podcast:  a 14-part investigation of the historical origins and pervasive significance of "whiteness" (Required listening for all Repentance Project Board members).

Pass the Mic:  a podcast hosted by Jemar Tisby (author of Color of Compromise which we recommend above) that dives into issues at the intersection of race and Reformed Christianity.

The Disrupters:  a podcast produced by InterVarsity Press and hosted by Wheaton Professor Esau McCaulley that interviews authors, scholars, and activists whose Christianity is causing them to be "disrupters" in their fields.
STILL HUNGRY FOR MORE?
Check out these other compilations of resources: