Alone, none of us will follow Jesus the way we most want to.  And community forms us more deeply than most things.  And small groups of Christians can do a lot more together for others.  For all these reasons and more, I'm delighted to announce the formation of the Coracle Community.
I want to invite you to consider joining a small group of people journeying together to help one another go deeper into God, live more fully who God has created each one of us to be, and do some good in the world.  We gather monthly on the 2nd Wednesday in Arlington, and you can learn more about that HERE and email karla@inthecoracle.org with any questions.
After more than two years of discernment, conversation, and experimentation, we're now opening up the Coracle Community to any who would be blessed by engaging with it, starting Wednesday, March 11 and then onward.  Over these past couple of years we've observed that people who appreciate Coracle often end up liking each other and are deeply blessed by spending more time together. Coracle is a place where people with strange integrations in their lives, minds, and hearts find a home and a safe place and community to dive into Christianity more deeply.  People look to the Coracle Community as a place to be encouraged in holistic spiritual maturation, a place to go deeper into Christ, together, and moving out further for the Kingdom.
We've put together a manual of sorts for this community, exploring why Christian community matters, what the Coracle Community aspires to be, what it is and who it's for, and the way and structure of how we meet together, and a brief history.  If you're at all intrigued, I encourage you read that HERE, or show up on Wednesday March 11 at Little Falls Presbyterian Church in Arlington, or email us with any questions (karla@inthecoracle.org).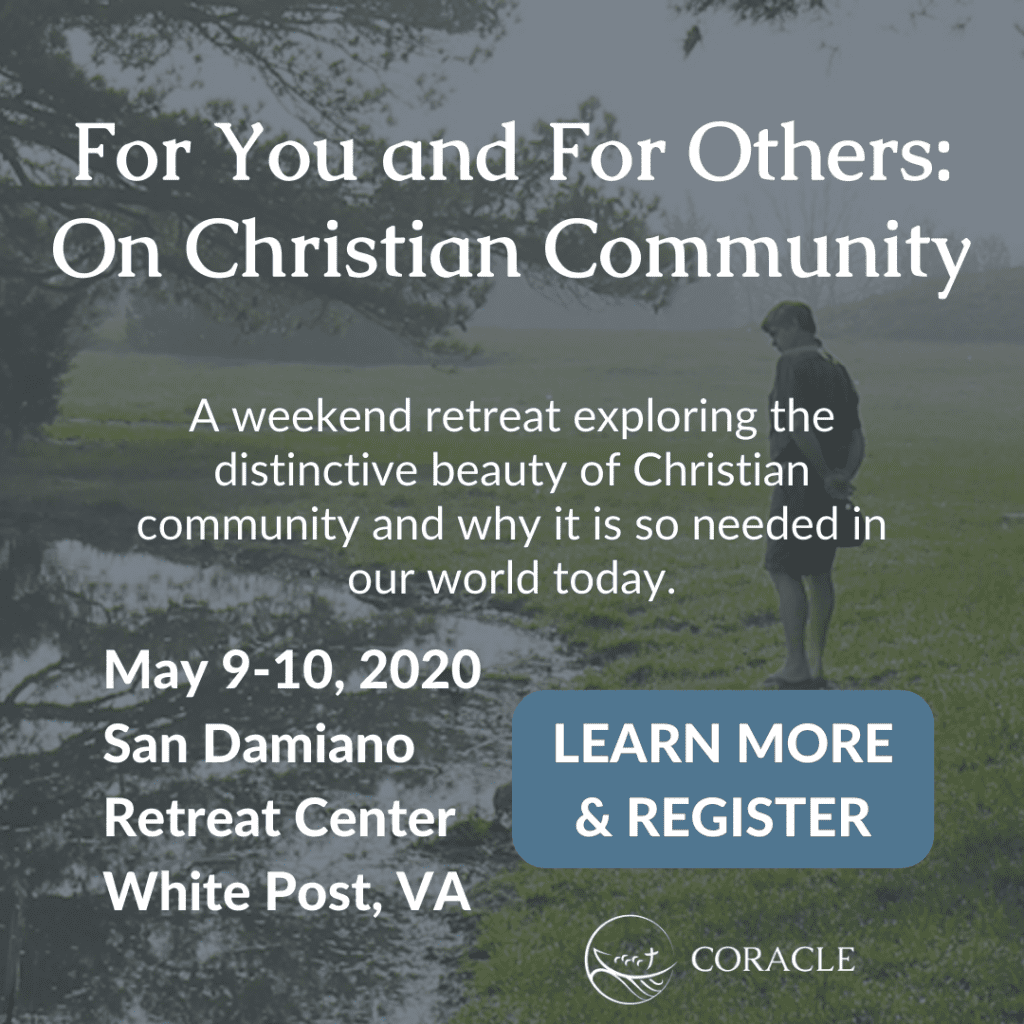 And we're also offering an open retreat on themes related to community on May 9-10 at a retreat center just outside Front Royal, VA.  We'll be done by 10.30am on that Sunday so you can make it back for a mother's day brunch!  We're calling it "For You and For Others: On Christian Community" and we'll take a much closer look at what Christian community is and why it matters for us and for the world now.  This is open to anyone who simply wants to engage this topic more deeply, as well as for any who are curious about the Coracle Community.  There will be teaching, rest, fellowship, a lot of fun, and a lot of good people.  REGISTER HERE.  Scholarship help is certainly available, just let us know if that would be helpful.
I'm excited about this new aspect of what Coracle offers.  We're trying to be attentive and faithful to the fact that God just keeps leading good people to Coracle who somehow are sharpened and encouraged by being together and finding great help in staying focused on what God is doing in our lives and how we can be of service to others.  I'm curious to see how God will form us and use us, and where God takes us over time.
There's an insight from Jean Vanier that has resonated with me so deeply from the day I first read it well over 25 years ago.  It's from his little book From Brokenness to Community and really gets at what the Coracle Community is actually all about:  
"We feel small and weak, but we are gathered together to signify the power of God who transforms death into life.That is our hope, that God is doing the impossible:changing death to life inside each of us, and that perhaps, through our community, each one of us can be agents in the world of this transformation of brokenness into wholeness, and of death to life."
DOWNLOAD & READ THE CORACLE COMMUNITY MANUAL