Are you looking for ways to grow in your relationship with God during this pandemic season (or any season for that matter)?  You are in the right place!  We have collected some of Coracle's resources and offerings that deal with that question for you to easily access and share with others who might need them.  We hope they are a blessing to you!
If you are looking for a spiritual companion to accompany you through this season, we recommend exploring our Spiritual Direction page.
---
Soundings Seminars Recorded for You
COVID-19 IN THE DEVELOPING WORLD: A GLOBAL IMPACT
Nate Bacon, Coracle's mission partner in Guatemala, offers a picture into how the coronavirus pandemic is affecting marginalized communities in a majority world context.
SELF-CARE FOR LEADERS IN TIMES OF CRISIS
Bill Haley shares 4 self-care strategies that should stay top-of-mind for Christian Leaders amidst the disruptions of COVID-19.
RESILIENT FAITH: A THEOLOGY & SPIRITUALITY THAT CAN HANDLE GREAT HARDSHIP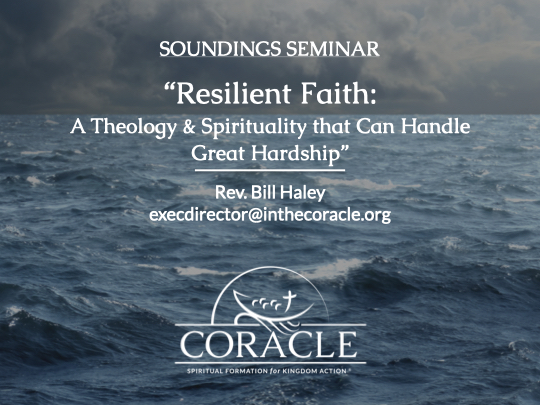 Bill Haley expands upon three crucial steps for cultivating resiliency in our faiths amidst trying times.
HANDLING SHORT AND LONG-TERM GRIEF
Barabara Ryan shares hard-earned wisdom about ways to cultivate gratitude and intimacy with God when life just hurts.
EDUCATION IN A TIME OF CORONAVIRUS
Two long-time educators share creative strategies for transitioning to a "learning from home" world with faith and hope.
"Simple Soundings" Devotional Videos
JESUS AND HIS FRIEND with Rev Bill Haley
GOD'S LOVE IN FALLING LEAVES with Rev Bill Haley
BONFIRE OF THE CANOPIES with Karla Petty
ADVENTURE AS AN ANTIDOTE TO DESPAIR with Rev Ken Wettig
WHAT IS TIME IN A PANDEMIC? with Drew Masterson
DISCOVERING THE STORY YOUR HOME TELLS with Margot Eyring
"TRUE CORRECTION" AND A NEAR-DEATH EXPERIENCE with Karla Petty
PATIENCE IS NOT OPPOSED TO ACTION with Rev Ken Wettig
FILLING EVERY (COVID) MOMENT WITH LOVE with Rev Bill Haley
A SIMPLE PRAYER TO RECEIVE A "HUG FROM GOD" with Margot Eyring
WHY WE RETURN TO BELOVED STORIES with Drew Masterson
TRUE-SELF, FALSE-SELF, COVID-SELF with Karla Petty
MAKING OUR ANXIETIES WORK FOR US with Rev Bill Haley
REDEEMING "SHELTER IN PLACE" with Rev Bill Haley