How might we, as Christians, be a visible presence to the communities where we live?  Aside from checking on our neighbors, family, and friends, what might we do to share the love of Jesus with others?  As followers of Jesus, we are people of HOPE!  We have good news to share even if we too may feel anxious or afraid.  We know and are known by the Prince of Peace, Jesus.  Even if we are struggling too, here are a few ideas to ignite our imaginations and encourage our creativity to be a visible presence in our communities.
Begin with Prayer
Print out a map of the city or state where you live.  Keep it near your Bible, pull it out each morning and pray over different places in your geographic area.  Pray for hospitals: nurses, doctors, and other healthcare workers.  Other days pray for elected officials (local and national) to make wise decisions.  Pray for homeless shelters and places that house trafficked women and children.  You get the idea, but don't stop there.  When you go outside to stretch your legs, ride your bike or go for a run, pray as you exercise.  Pray and ask God to watch over your neighborhood.  Pray and listen to how the Holy Spirit might lead you.
Pray for the nations
Print out a map of the countries your church supports or a country that is special to you.  Lay hands on the map and pray for the healing of that nation.  Pray even for revival!  Pray the COVID19 virus will stop transmitting and pray for a cure.  Pray for people to have a hunger and thirst to know God.  Ask God for help to direct our prayers.  If you have children in your home, have them pray too; kids pray great faith-filled prayers. 
Doorways
Our doorways are significant places. At present, the only person coming to my front door is my postal carrier.  She works hard and delivers mail faithfully.  I left her a scribbled thank you note last week and taped it to my front door.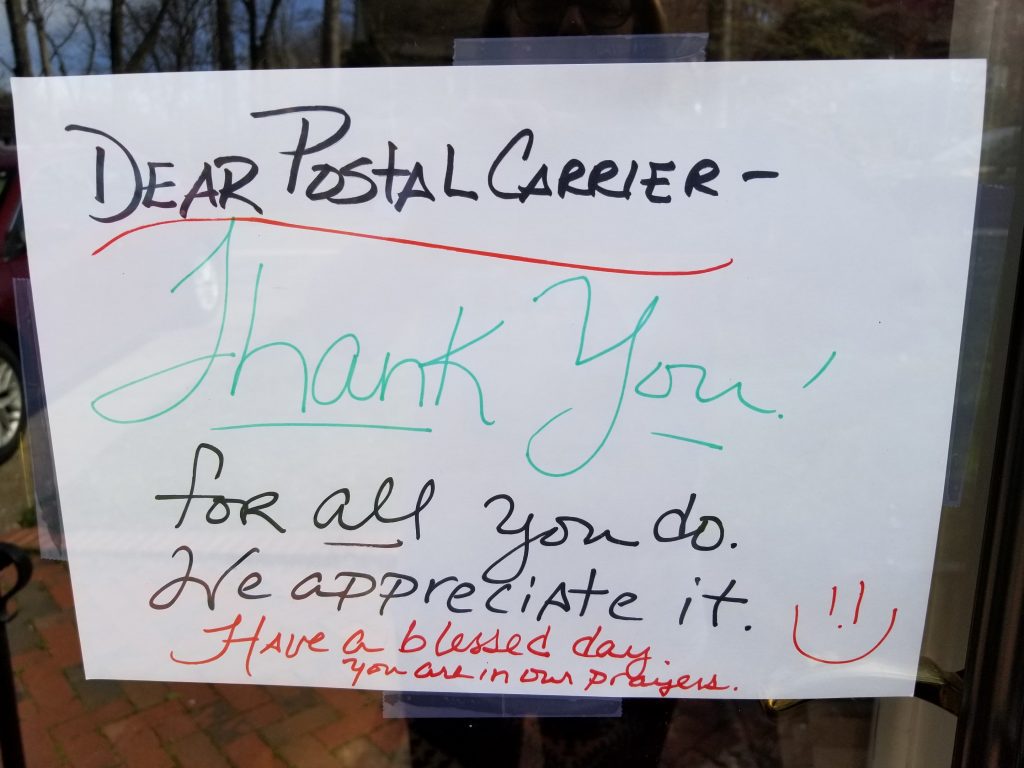 One of my neighbor's kids created this: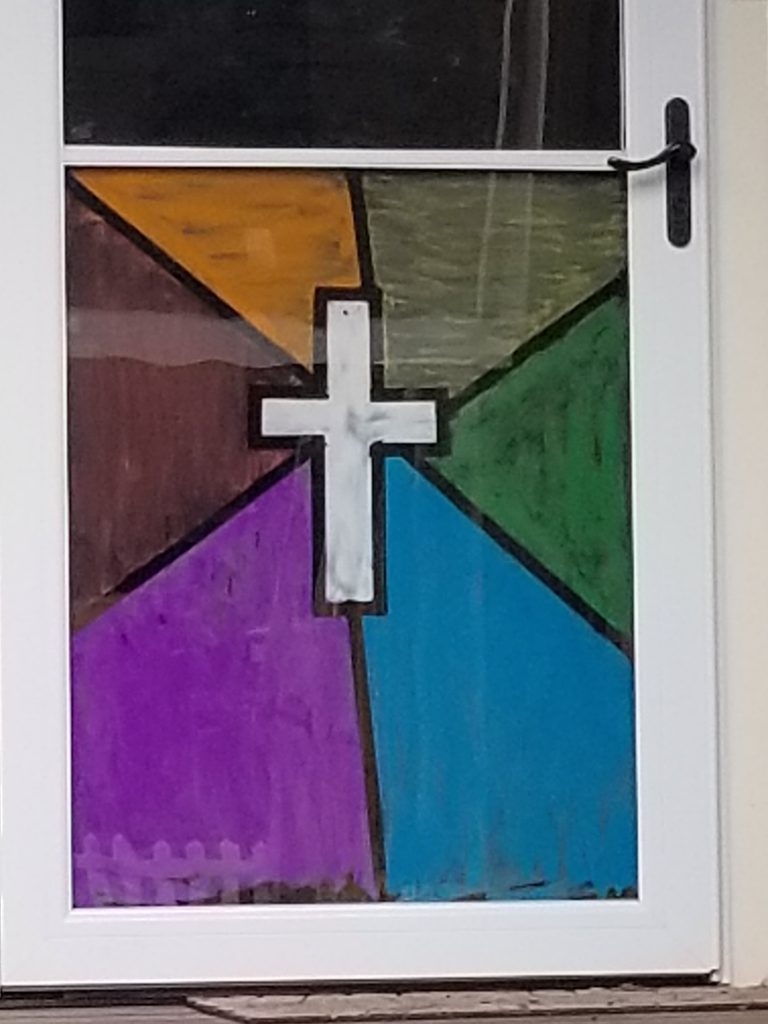 What are other ways we may thank those who bring us essential services?
Easter
Yes, it is sad we cannot celebrate the joy of Easter in person this year.  Why not share that joy with those who pass by your place of residence?  Whether you live in an apartment or house, decorate your front door in some way.  Perhaps with the words, "He is Risen!"  Print out the words in large type and tape it to the door.  Try covering your front door in brown paper and sketch something Easter themed, to remind our neighbors that Easter is here. Don't aim for perfection.  Social media sites like Pinterest can spur ideas.
Let Your Sidewalk Chalk Talk
In my neighborhood, kids are writing birthday messages to their friends on the street in chalk.  Consider writing out something positive or encouraging for neighbors to see.  Just a few words to say, "We miss you, or "We are praying."  I saw this message on a walk yesterday: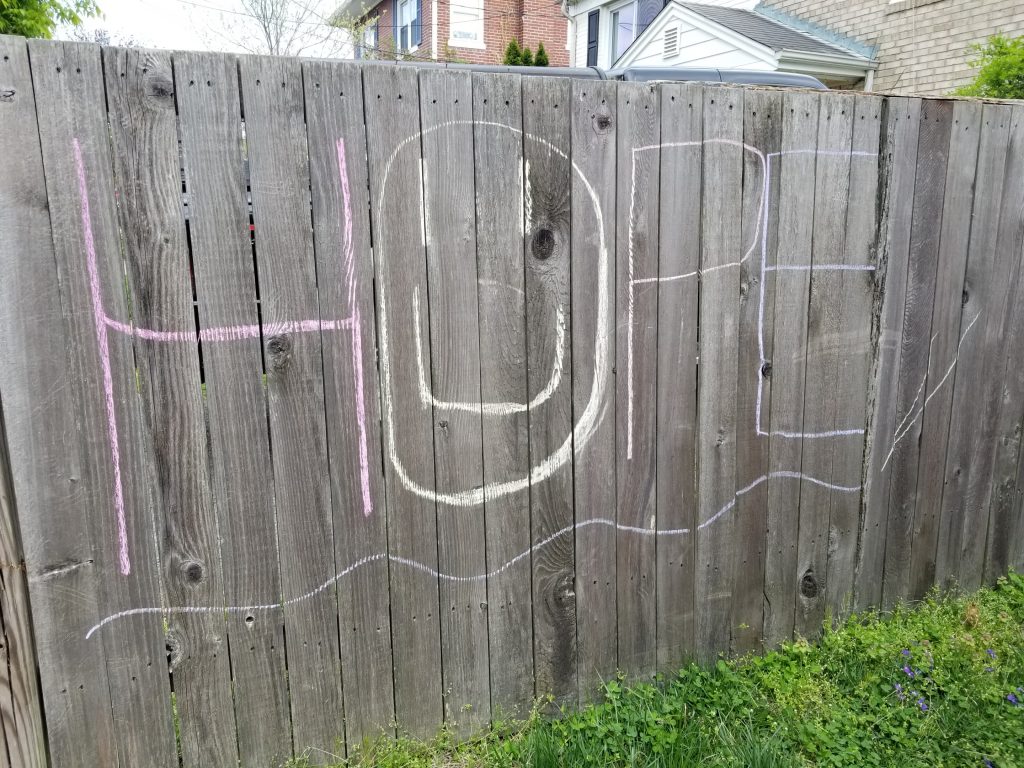 Message Wall of Words or Images
One of my neighbors has a poetry wall on the fence around their property.  They laminate poems and change them out from time to time.  If you have a fence people walk by, perhaps print out the Easter story or images of Easter art.  Museum websites are great resources for Biblically themed art or an internet search for Easter paintings.  Another neighbor posted this sign by the sidewalk: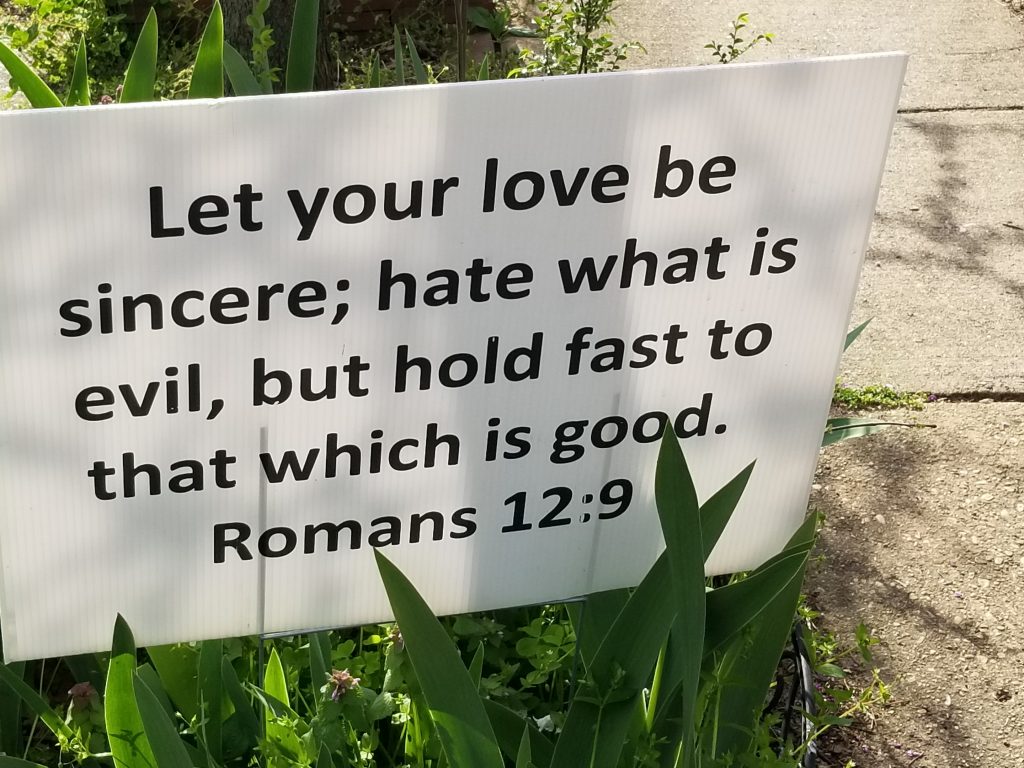 What Churches Can Do
If your church currently has a robust prayer ministry, perhaps print up t-shirts or yard signs with your church's website with this message:  "Need prayer?"  Then provide a phone number or website where people can call and request prayer.  Praying offers comfort to someone who is in need and is a great way to demonstrate care to your community. 
As individual Christians and as the collective body of Christ, let's continue to think of creative ways of being a visible presence in our communities.