Many of you have probably seen this widely-circulated Coronavirus meme: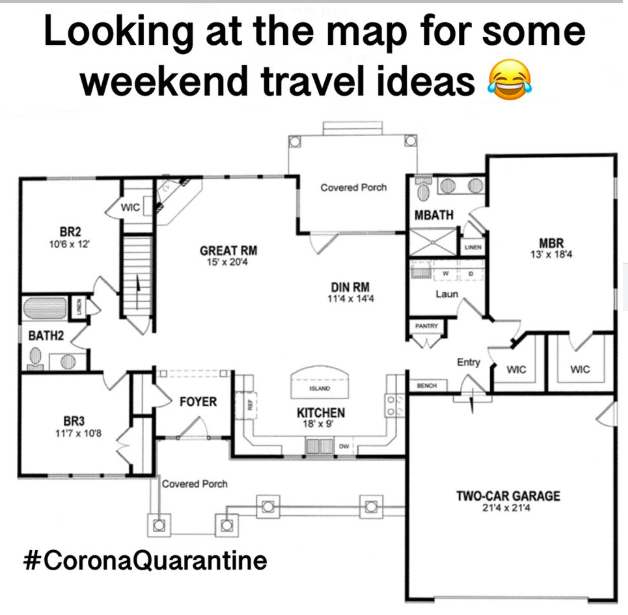 It's funny because it's true, almost painfully so.  Over the past few weeks, every single pilgrimage that Coracle had planned for this year has been canceled, postponed or called seriously into question.  Even the ones we want to do next year we're not totally sure we can even plan.  We are an organization that values adventure – going far, going deep, and exploring less-traveled pathways to meet people where they are, especially those on the margins of society and parts of the world that are particularly broken.  So this has been especially hard for us as it feels like a significant part of our ministry has been put on hold.
Maybe it's the same for a lot of you.  I know it has taken a toll on me.  Not a day goes by when I don't think of places to explore or dream about adventures to go on and where in the world I could get to next.  I am always looking to go on journeys with God anywhere in the world he might want to take me, but I'm less attuned to those opportunities in my own immediate area.  With a heart that yearns to explore, yearns to go deeper into the heart of the world with the heart of God as my guide, what do I do when the world is effectively closed? 
Now that all of our worlds have been drastically reduced in size, it seems there is no time like the present to revisit the idea of pilgrimage.  Ian Bradley describes pilgrimage as the "journey towards deeper faith and greater holiness and towards God which is the Christian life."  Note that the destination of the journey has nothing to do with geography.  Bill Haley has defined pilgrimage in sermons as "a journey with God, to find God, together" or "a journey intentionally undertaken for spiritual purposes."  And Laurie Hailer, a scholar of Celtic spirituality, says that "the old Celtic Church spoke of the purpose of peregrination as 'finding the place of one's resurrection.'  To find the place of one's resurrection involved a willingness to be led into what one does not already know, repentance and restoration, dying to whatever was familiar, and finding new life."
I don't think we can overestimate the importance of developing a proper imaginative framing for this time of quarantines, limited mobility, and reorientation within our homes and families.  I want to re-frame this time as a pilgrimage of sorts.  How can I look at the 477ft walk from my front door to the local grocery store as a pilgrimage?  How can I look at the short distance between the foot of my bed and my reading chair as a journey intentionally undertaken for spiritual purposes?  How can I see STAYING IN ONE PLACE as a journey with God, to meet God?  There lies within this time an invitation to die to self in certain ways, and in that death, to find resurrection.  We are in Lent, after all.  Headed towards the celebration of the Resurrection.  What a journey we are all on, even in this time of tight quarters and travel cancellations.  
Let us not forget that we are all on pilgrimage, every moment of every day, wherever that day may find us.  We are capable of discovery and exploration even in the tiniest of places (my apartment measures 369 square feet…total).  
I'll leave you with the prayer of St. Brendan the Navigator who prayed this as he took to the sea in a small boat (a coracle, no less!) without a known destination or really any hope of survival.  He just knew he was called out onto the water to journey with God.  Perhaps it would be helpful to suggest reading the mentions of "the sea" in this prayer as whatever uncertainties and unknowns you are facing right now, and the mentions of native land as the life and routines you knew as normal in February.  
God bless you all on the journeys you are all on and the ones on which you are about to embark.
---
Prayer of St. Brendan the Navigator
Shall I abandon, O King of mysteries, the soft comforts of home? Shall I turn my back on my native land, and turn my face towards the sea?
Shall I put myself wholly at your mercy, without silver, without a horse, without fame, without honour? Shall I throw myself wholly upon You, without sword and shield, without food and drink, without a bed to lie on? Shall I say farewell to my beautiful land, placing myself under Your yoke?
Shall I pour out my heart to You, confessing my manifold sins and begging forgiveness, tears streaming down my cheeks? Shall I leave the prints of my knees on the sandy beach, a record of my final prayer in my native land?
Shall I then suffer every kind of wound that the sea can inflict? Shall I take my tiny boat across the wide sparkling ocean? O King of the Glorious Heaven, shall I go of my own choice upon the sea?
O Christ, will You help me on the wild waves?