It is absolutely clear that God has called you to a free life.  Just make sure that you don't use this freedom as an excuse to do whatever you want to do and destroy your freedom.  Rather, use your freedom to serve one another in love; that's how freedom grows.  For everything we know about God's Word is summed up in a single sentence:  Love others as you love yourself.  That's an act of true freedom.
Galatians 4:13-14 (The Message)
__________________
A recently released study tracked millions of people's cellular location data to determine how well Americans are following stay-at-home ordinances.  The conclusion:  over the last two weeks, we have started leaving our houses more.  After weeks of intensive self-isolation, and without any changes in the public policies surrounding social distancing and sheltering in place (the study was conducted before any states began re-opening), what might explain this recent slippage?  
There may be many valid and important reasons why more of us are moving about in recent days, and I have no intention of isolation-shaming anyone.  I can only say why I have felt more drawn towards the open road, gatherings with friends, cherished local restaurants, and side hugs.  Put as simply as I can, I love looking for loopholes.  And, strange as it may sound, I learned this about myself from a lamb.
My wife and I have had the good fortune to spend much of the past month at a farm outside of Charlottesville.  This has granted us the opportunity to be entertained by the small flock of sheep inhabiting a pasture just off the back porch of the house.  I have endeavored to spend at least a few minutes each day silently observing their grazing and romping in the hopes that the Lord would show me something, as he so often has in natural contexts (like Corhaven, for instance).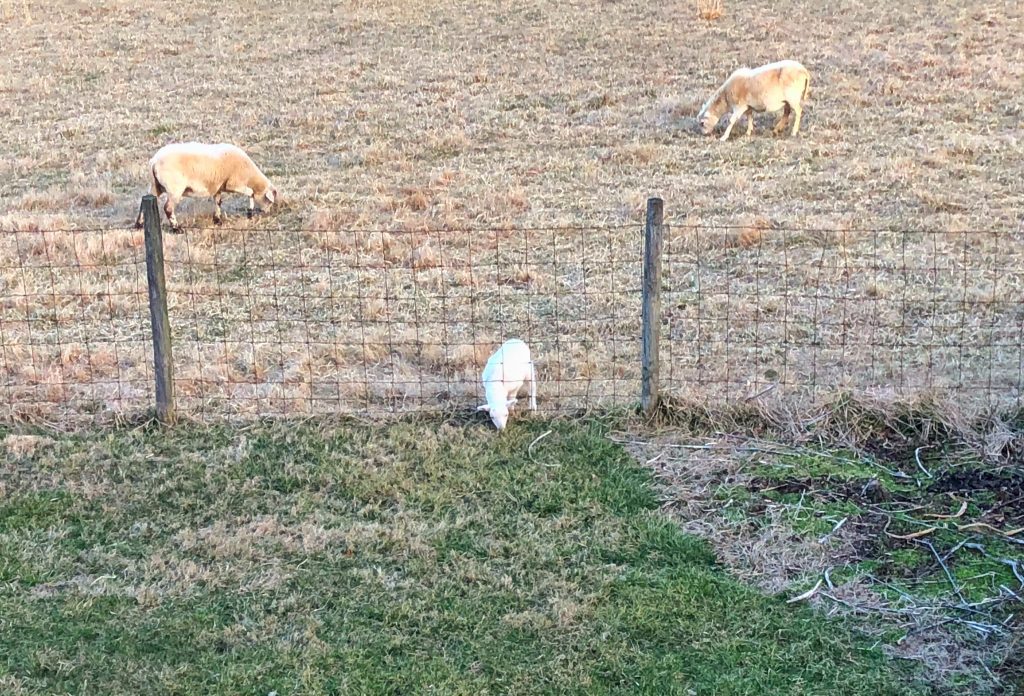 One morning, not too long ago, I was watching our "teenager" sheep as she lazily grazed along the wire fence closest to the porch.  All of a sudden, she stopped, turned, and stared through the fence (where the grass is objectively greener).  After a moment's deliberation, she stuck her head through the fence as far as it would go and began nibbling at the ground as best as she could manage.  This simple action immediately transported me back to a sermon I heard in college (shout-out to LFCD), where the pastor addressed our deeply human (and also sheep-like) tendency to push against our given constraints– our "fences"– as much as we can.  We choose to be guided by the question "how far is too far?" in all aspects of our lives, determined to find the outermost boundary of what is acceptable.  If we can exploit a loophole that grants us a few mouthfuls of that greener grass from the other side of the fence, we take it.  The good life is the life without constraints, without fences, without anyone to tell us how to conduct ourselves.  But, the pastor reminded us, when we operate from this mindset (which is our cultural default setting) we live in denial of two critically important realities:
First, we forget there are predators outside the sheep-fold.  By gaining freedom from the confines of trustworthy, given constraints, we expose ourselves to the dangers against which those constraints were constructed to guard us.  And when the danger is a highly-contagious coronavirus, our desire to live into freedom from the constraints placed on our bodies by state governments also endangers those men and women most vulnerable to the disease.  Now and always, whether we are facing biological or spiritual "predators," what we do with our bodies matters for more than ourselves. 
Second, we forget that we have a Good Shepherd, calling us to himself to dwell in peace under his protection. We think freedom means breaking through the fence into the un-grazed fields beyond, but true freedom– for a sheep and for us– is found by getting as close to our Shepherd as we can get and staying in-step with him as he leads us on to green pastures and still waters.  Freedom is found at the feet of Jesus.
---
Psalm 23:1-4 (KJV)
The Lord is my shepherd; I shall not want.
He maketh me to lie down in green pastures:  he leadeth me beside the still waters.
He restoreth my soul: he leadeth me in the paths of righteousness for his name's sake.
Yea, though I walk through the valley of the shadow of death, I will fear no evil:  for thou art with me; thy rod and thy staff they comfort me.
---
If you're like me, you're feeling more and more "fenced-in" as the days tick by.  I have sensed in myself an almost compulsive urge to push-against the government-issued constraints upon the life I want to live, even when I know doing so might endanger myself and others.  The question all-too-often driving my life is, "what can I get away with and still convince myself that I'm being responsible?"  
Often, the areas in which I am longing for loopholes are of minor importance in the grand scheme of things, but there are also areas of my life where the "fences" of this pandemic feel more like prison bars, preventing forward-movement towards deep hopes and producing a pit-of-the-stomach sense of insecurity.  Wendell Berry reframes this dynamic in a way I have found both helpful and hopeful:  "If the idea of appropriate limitation seems unacceptable to us, that may be because… we confuse limits with confinement… On the contrary, our human and earthly limits, properly understood, are not confinements but rather inducements to formal elaboration and elegance, to fullness of relationship and meaning." 
In the midst of this season's global and uniquely personal pains, I (and we) are still given the opportunity to be guided by the right question:  "How can I get as close to my Good Shepherd as possible during this season?"
I hope you will join us as we seek to explore and embody faithful answers to this question in the weeks and months ahead.