I am so excited to begin our next Fellowship cohorts in January and I wanted to make sure that you knew about it!  We have two cohort opportunities coming up in 2024 – in-person in the NoVA/DC area and one completely virtual.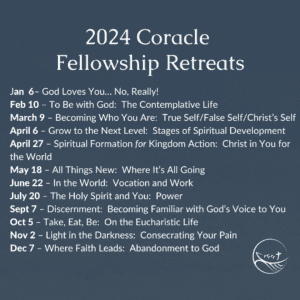 Our Fellowship program offers 12 amazing retreats that cover topics such as becoming who you are, vocation and work, hearing God's voice, true self vs. false self, the Eucharistic life, and more.  Along with the 12 retreats, the Fellowship Program offers personalized readings, prayers, reflections, and a community minister to walk with you for 12 months. Not to mention the deep community you will form with those in your cohort. Every year we offer this program for your joy and freedom, and because the world needs more people who are alive!

But don't take my word for it, below are a just few testimonials that we've heard from past Fellows:
"The Fellowship has been a lifeline."
"It renewed my desire to get close to God."
"It provided a structure, like a trellis, that allows a plant to grow up."
"This year has expanded my vision of the spiritual life, that it's not an intermittent thing but that the spiritual life _is_ my life."
"I'm asking different questions now.  My desires have grown so that my old fears don't matter so much."
"This was life-changing for me."
"Now I know that God sees me.  Now I know that God knows me.  Now I know that God can be trusted."
"I've had the experience of being known."
I hope you'll prayerfully consider joining us and invite a friend or two for the journey! Wherever you are, come join us for 12 months, 12 retreats and one transformational journey with God. 
Applications are open!