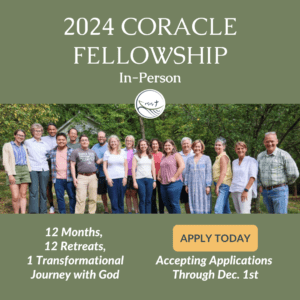 Applications for the Coracle Fellowship 2024 in- person and online are now open!
A few weeks ago I wrote about the opportunity for flourishing through our
Fellowship Program
here at Coracle. I spoke of the beauty that this program provides and how you or someone you know should become part of our new 2024 class. I want to share with you the three questions I get when I talk about this program.  First,
What is the Fellowship Program?
  The Fellowship Program is an opportunity to go through
a process of discovery and formation in community
with others seeking more in their relationships with God and in their redemptive engagement in the brokenness that surrounds us all. In short to
grow deeper in their union with Christ.
The Fellowship Program leads you through 12 retreats, with personalized readings, prayers, reflections, and a community minister (me) to walk with you for 12 months.  We offer an
in-person cohort
that will meet primarily at our Coracle Arlington Ministry Space, but also with some of our partner churches and Corhaven, our retreat center.  We also have an
online cohort
meaning that you can still experience all of the above, integrated with the in person cohort from wherever you live.
The second question is usually: Who is this for?  It is for anyone and everyone.  You're neighbor, friend, relative, spouse, boss and even for the person who wants more of God, to the person who is confused about God.  Think about it this way: have you ever ached for more of God or longed to go deeper but just couldn't get started or do it consistently?  Or maybe you've felt stuck spiritually or there is something in your past that has distorted your view of God in your present and future?  Does the brokenness in the world frustrate, anger and break your heart?  We all ask these questions and the Fellowship program dives into these and more. So as you read this I want you to pray and think about people who you could invite to this incredible opportunity.
Finally, the last question usually is: When does it start?  We begin our new class of fellows in Jan 2024 with our first retreat on God's love for you.  I encourage you or those you invite to check out our website here, where you can see the vision, the topics and dates of each retreat as well as the application to begin your journey with God and us. And if you have any questions, do not hesitate to contact me at chris@inthecoracle.org  Now, when I was a kid I couldn't wait to watch my favorite TV show, Reading Rainbow with host Lavar Burton.  There is something he always used to say when introducing books that I may or may not have read saying, "but you don't have to take my word for it, hear what our readers have to say."  Well I want you to hear what a couple of our fellows have said about the Fellowship Program:
"I so look forward to the rest of this year as we learn more about ourselves while actively inviting more opportunities for us to seek and be with the One Who Sees Me."

"God has been so faithful each time we have gathered and the practices and readings over the months help me to go even deeper."