I sojourned to south-central Montana in mid-September.  The break came at the end of an unexpectedly intense seven weeks, and before a seven-week stretch that I knew would be intense, and unexpectedly became much more so.  I needed this time to rest, to immerse myself in God, and I had no idea how much I would need it to be refreshed in order to meet the challenges that awaited my return, themselves opportunities for immersion.
While driving to the airport, I called a wise friend and dear brother about a matter entirely unrelated to my trip.  Upon hearing about it though, he said, "Pay attention to nature.  Watch the trees."
This advice, a nudge of the Spirit to my friend's spirit to share with my own, was a gift.  When, while trying to come down from the stresses that accompany life, I would be distracted by the concerns I sought to lay down, these words gave me something to do with my mind.  
Pay attention to nature.  Watch the trees.  I did both, and both had much to say.  Among other insights, the trees offered these two.
The destination for me and a group of brothers was Fort Smith, to a refuge* on the Bighorn River in the foothills of the Pryor Mountains, in the Native American country of the Crow, the Absoraka.  Much of the terrain lay in a valley, much of which had long been cleared for agriculture, for the growing of sugar beets, soybeans, potatoes, and sunflowers.  More of the terrain was simply prairie, arid open ranges for the grazing of cattle and, yes, where the deer and the antelope play.  There were few trees to watch in these wide-open fields under big sky.
But there were indeed trees, many of them, hugging the Bighorn River on both banks.  From the air, the land would have looked a canvas of brown and pale yellow, with a deep blue ribbon cut through the middle, both sides hemmed with dark green.
The trees stayed close to the water.  They grew near the water.  They were born, grew, and gained strength from the water.  Water gives them life and sustains their life.  What does a tree know?  Stay close to the water.
When I was a boy, my father made me memorize Psalm 1.  It is about the person who is wise, who delights and meditates on God's ways and the heart behind those ways.  That one "is like a tree planted by streams of water that yields its fruit in its season, and its leaf does not wither." (v3)
Jesus said he gives living water, and that the water he gives becomes "a spring of water welling up to eternal life."  (John 4.10-14)
The trees said, "Stay close to the water."  I hear, "Stay very close to Jesus."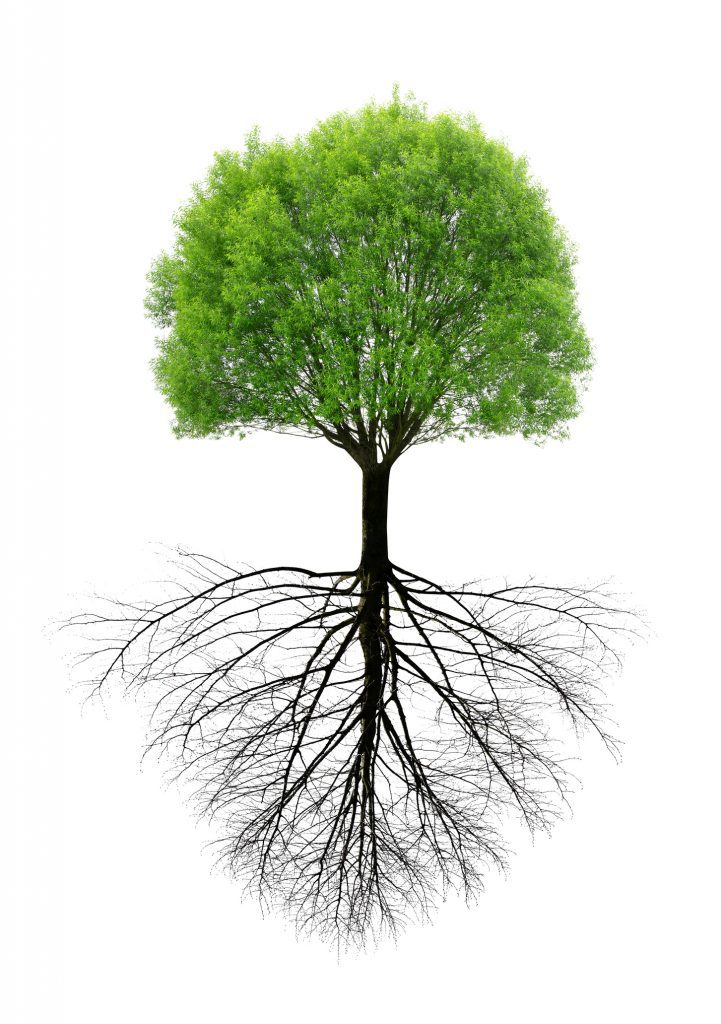 The trees said something else.  I remember once seeing a beautiful tattoo on the back of a person at the beach.  Its large size and perfect placement and its message made it obviously unforgettable.
Not all trees look like this, but some do.  The tallest trees with the widest canopies have the deepest roots to anchor it, roots that spread wide to drink water from the sky, beyond the shelter of its own leaves.
The connection is not hard to make.  To grow tall, grow deep. 
Soon after we moved to Corhaven over 10 years ago, we planted a few saplings of apple trees.  For the first couple of years, they seemed to hardly grow at all.  But they were in fact growing, underground.  Though hidden, their deepening was happening unseen.  They were spreading out their roots and digging them further down to sustain the larger tree that would come later, bearing much fruit.
Jesus said the one who abides in him is the one who bears much fruit.  (John 15.5)  He could have said the one who is rooted in him is the one who grows tall.
Upon my return to the East Coast, I shared this word from the trees with my wise friend.  He noted that it is because of those deep roots that the tall trees can withstand the great storms.  They bend with the wind and are not blown down.
The trees said, "Grow deep." I hear, "Go deeper into God, and stay there."
Humphrey Carpenter wrote a biography of JRR Tolkien and said of the man whose mind gave us the Ents, "And though Tolkien liked drawing trees, he liked most of all to be with trees.  He would climb them, lean against them, even talk to them."  It's not hard to imagine that he listened to them as well.
And so, dear reader, these words offered to me by a man and by the trees I offer to you too, an invitation shared with a hushed tone that betrays both solemnity and sacredness.
Pay attention to nature.
Watch the trees.
Stay very close to Jesus.
Go deeper into God, and stay there.
---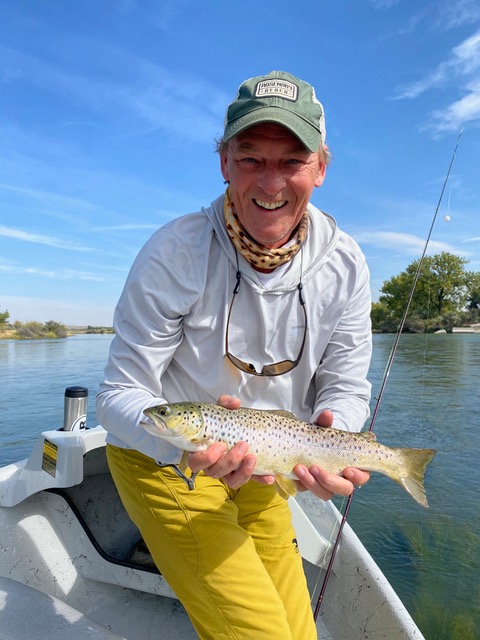 *I was grateful to be hosted at the Refuge, a ministry to Christian leaders providing a retreat experience to help sustain their vocations.  Covid hit Refuge pretty hard for obvious reasons, and if you'd like to make this fantastic ministry possible for many like me, you can support them here.  I was also grateful to Hunter who helped me have an encounter with this trout, which was happy to swim away after a photo-op!