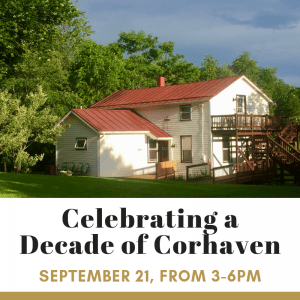 On August 15, 2009, in response to that gentle and clear invitation from God, Tara and I moved from the inner-city of DC to what would come be called Corhaven, meaning 'rest for the heart' and 'a safe place for the soul'.  Almost 10 years later, it's been that thin place for literally thousands of people and has launched a bunch of ministry opportunities, and we want to celebrate!  And we want to thank God!  And we want to give Beauty!  And we want to do it with you…
On Saturday, September 21, 2019 from 3pm to 6pm I'm hoping you'll join us at Corhaven for a gorgeous celebration and fun time of thanksgiving for these first 10 years, and all that God has done and will do.  Feel free to come early and/or stay later if you'd like to make this a little bit of a retreat for yourself.
There's so much joy to have and so many good things to enjoy, and we'll do it. This truly is simply a celebration–not a fundraiser–a way for us to give thanks so your presence is all we want.  If you've ever been blessed by this place, please come.  There will be great food prepared by Tara and things made beautiful by Susan; kids are welcome and wanted and Corhaven will be prepared for their fun; and I and others will have a chance to bear witness to God's faithfulness in this place thus far, and share where where we sense it's all going.   
Some of you may remember our five year celebration, and the wonder that that was.  I promised Tara then that she wouldn't have to do that again for another five years, and well, it's five years later!   (Though the CGT "Beauty and Bounty" Feast last year almost counted!)   And we're glad that time has come, and that we're marking 10 years in.
Come join us as we say thanks to you and thanks to God together!
Someone mentioned to me the great need in our day to create sacred spaces, places for people to encounter God, and that Corhaven is that.  Indeed it is, for the Lord has done it.  "O come, let us adore him!" on September 21.