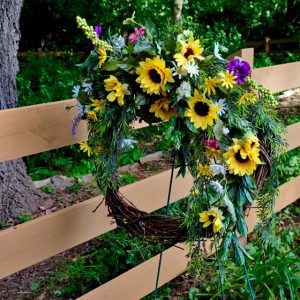 An immense thank you to the twelve adults and nine children who gathered at Corhaven Graveyard— where two-dozen African Americans, enslaved in life / freed in death, are buried— to tangibly celebrate Juneteenth on Saturday. These community members listened to a reading of "The Emancipation Proclamation" and stained the graveyard's fence (beautifully built by Bucky Custer in 2016), and three benches, crafted by students in the Triplett Technical Institute's Carpentry Department under the direction of Phil Crisman. They sang Amazing Grace to the accompaniment of bagpipes played by Russell Kohrs; savored a delicious lunch made by Po's Greens, a Front Royal-based catering business specializing in BBQ and Southern fare; placed a commemorative wreath, decorated by Gail Scherer; and engaged in reflection and prayer.
Juneteenth may seem like an unfamiliar holiday; however, it's been celebrated since the end of The American Civil War. On January 1, 1863, Abraham Lincoln's Emancipation Proclamation took effect in all Confederate States of America. However, this did not include the four border slaves states, Kentucky, Maryland, Delaware, and Missouri, nor the counties of Virginia that soon formed West Virginia, nor the three zones under Union occupation—Tennessee, lower Louisiana, and southeast Virginia—nor Texas. Therefore emancipation throughout The United States of America would be proclaimed more than once with the help of the Union Army over the course of two and a half years.
As of 1865, approximately 250,000 people were still enslaved in Texas. On June 19, 1865, emancipation of these last remaining enslaved persons finally occurred in the United States. That day, "absolute equality of rights" was established by General Order Number 3, read by Gen. Gordon Granger in Galveston, Texas, as follows:
"The people of Texas are informed that, in accordance with a proclamation from the Executive of the United States, all slaves are free. This involves an absolute equality of personal rights and rights of property between former masters and slaves, and the connection heretofore existing between them becomes that between employer and hired labor. The freedmen are advised to remain quietly at their present homes and work for wages. They are informed that they will not be allowed to collect at military posts and that they will not be supported in idleness either there or elsewhere."
The following year, in 1866, and since then, celebrations commemorating this Juneteenth Independence Day have occurred all over the country. In 1997, Congress officially passed legislation recognizing Juneteenth as Juneteenth Independence Day. An annual resolution continues to re-designate the current year's June 19th as Juneteenth Independence Day. Currently, Juneteenth is recognized and celebrated in the District of Columbia and in all but four states (Hawaii, South Dakota, North Dakota, and Montana).
When we consider all the forms of prejudice, violence, and injustice against African Americans throughout our country's history and even today, commemorations such as Juneteenth are especially important. W.E.B. DuBois's words remind us, "The slave went free; stood a brief moment in the sun; then moved back again toward slavery." A 2018 statement from President Trump reads as follows, "as a Nation, we vow to never forget the millions of African Americans who suffered the evils of slavery. Together, we honor the unbreakable spirit and countless contributions of generations of African Americans to the story of American greatness. Today and every day, we recommit ourselves to defending the self-evident truth, boldly declared by our Founding Fathers, that all people are created equal."
Saturday was a day spent with a cloud of witnesses as we celebrated Juneteenth Independence Day, remembering with honor those who suffered the realities of slavery, acknowledging their faith and resilience, recognizing the bond that links Americans today to our collective past, celebrating joyfully with the enslaved who heard the ring of freedom on that first Juneteenth in 1865, and raising our voices to the continued prayer for peace among all people.
In the words of Maya Angelou from her poem, "Amazing Peace":
"We,… / Look heavenward and speak the word aloud.
Peace. We look at our world and speak the word aloud.
Peace. We look at each other, then into ourselves
And we say without shyness or apology or hesitation.
Peace, My Brother.
Peace, My Sister.
Peace, My Soul."
And, peace to you, as you work in tangible ways to promote the love of Christ in your communities and in the relationships in which God has placed you.