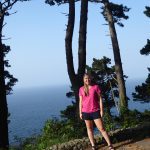 It's a new era for Coracle.  Our little boat is growing. For years, our staff has been made up of people who give part of their time to Coracle and part of their time to other professional roles. It was a great beginning and that structure served us very well.  Now it is clear that our growing organization and its many pursuits require more dedicated time from staff members. We've just hired our first full-time employee, and, as it happens… it's me.
God has worked in incredible ways to make this possible, both for Coracle on an organizational level, and for me, on an individual level. And you have too! We would not be where we are without the dedicated community of believers and supporters, all of you, to make this a reality.  I've gotten to know some of you either by going on pilgrimage with you, spending evenings with you in Northern Virginia, days together out at Corhaven or meeting you by chance.  You are, to a person, incredible. You challenge and astound me. I see Jesus at work in you, in the most inspiring ways.  And being granted more chances to witness that firsthand is one of the things I am most excited for in this new position.
So many of you I don't know, but hopefully our paths will cross.  If you ever want to know more about Coracle, what we do, how you can be involved, or just want to have a chat, email me.  It would be so great to know you better. We hope that having full-time staff will help create more space to connect with the people in our network, and find better and more frequent ways of drawing together and encouraging one another on the journey.  That's why we're here, after all.  We exist to inspire and enable people to be the presence of God in the world by offering spiritual formation and Kingdom action.  How can we help you deepen your relationship with God? What bricks have you been given to lay in the foundations of his Kingdom here on earth? How were you uniquely designed to build the Kingdom? One of the reasons I am here is to help you find ways to answer those questions.
I'll still be doing the same things, communicating with you regularly, helping with our Coracle Fellowship and other programs we do, but I'll be doing much more in addition to that, all of which is exciting and challenging and crazy and beautiful. As I'm writing this, I keep playing this song from over a decade ago called "The Adventure" by Angels and Airwaves. It has a huge, hopeful sound to it, and I play it sometimes at moments like this in my life, when I'm very aware of being invited further into something much bigger than myself.  That's how I've felt since I first encountered the reality of a relationship with Jesus, and how I've continued to feel since I came on staff with Coracle.  I think it's a good posture for faith to have a good dose of awe mixed in with it.  We can't be sure what's ahead, but there is a lot of hope and we can trust in the goodness of the one who leads us, and be excited about the journey.  "Here I am, and here we go, life's waiting to begin…"  Excited to keep adventuring with all of you.