As we enter the third week of Coracle's mid-year campaign, I want to thank everyone who has supported Coracle through your prayers and with your financial gifts! Both of these are instrumental in sustaining Coracle as we together pursue the mission of Spiritual Formation for Kingdom Action. We could not do it without you! And we would not want to.
Coracle is a community seeking to incarnate our faith in Jesus in those places and with the people where God leads us. Typically that means a life full of stories. Stories showing the reality of God in someone's life are particularly rich. Those, like you, who journey with Coracle, following Jesus together, often share stories about what God is doing and has done, along with your hopes of what He will do. That is encouraging, speaking to the movement of God in our lives. My friend Doug, a current fellow, recently saId,
Taking part in the Coracle Fellows opportunity has been a great encouragement from God.  The teaching and discussions have been biblically-based while also encouraging us to see and celebrate God's grace in multiple realms of life: nature, art, the workplace, etc. In a town where many of us are often "running on a treadmill" the Coracle Fellows program provides a much needed, safe space to slow down and intentionally look to Christ both individually and collectively.
"Safe space to slow down and intentionally look to Christ both individually and collectively" is one reason why Coracle exists. We want to be with Jesus so we can be his hands and his feet in the world He so loves and we love.  And you are invited into this!  Not just by our invitation but by the Lord's.
Another Coracle Fellow wrote, CORACLE has made me REALLY WANT TO, WITH INTENTION, be Jesus in the world. That's huge! CORACLE HAS EXPANDED MY WORLD.
The Coracle Fellowship has long been a focal point for Coracle and for people to be involved with Coracle.  In 2023 we had separate DMV in-person and online cohorts.  This has been a real blessing.  We'll launch our next DMV/online cohort in January 2024 and our next Baltimore cohort in Fall 2024. Watch this space for more details and open application periods. Pray that God will lead those he has called for this to us…and maybe that is you!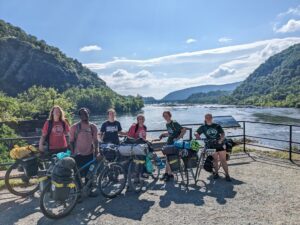 A newer thing we are paying attention to is the spiritual formation of youth. Ken Wettig, our Community Minister for the Shenandoah Valley, initiated SLAQ in 2020. SLAQ seeks to inspire and assist the next generation to discover God's good purpose for life.  We are excited to have this ministry join the Coracle family! SLAQ's mission is to equip diverse cohorts of youth for serving leadership in the way of Jesus through real-Life: Adventure, Service, and Wisdom. You can read about their summer faith adventure here.
Another way we are anticipating – and invite your prayer and participation in – is engaging with youth just outside the front doors of our new ministry space in Arlington! Right after we moved in, we realized we were right at a local school bus stop (I shared some stories about that here). We have also found great neighbors and partners in Arlington Bridge Builders. Coracle plans to contribute to their upcoming back-to-school backpack drive and we hope you'll join us – stay tuned for more details.
The Coracle Fellowship program, SLAQ, and local ministry opportunities are just a few of the ways we're spreading the kingdom. We look forward to having more stories to share and many, many more stories to hear from you and others we encounter on the journey.
I'll close, as I did in my last letter, asking for your prayer, participation, and financial support. Will you join us?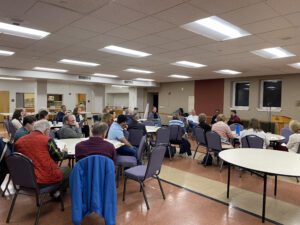 Left: Great fellowship at our monthly 2nd Wednesdays.
Right: Staff gather together at our new ministry center – Coracle Arlington.