In the early 2000s, in the dead of winter, Tara and I spent several weeks in eastern Romania, serving street kids there and those who work with them.   While we were there, we attended an Orthodox Church, which architecturally and visually was similar to every other Orthodox church I'd ever been in, or that perhaps you've ever been in. 
Stepping in from the very dark and very cold Romanian winter, the first thing that greeted us was flame, hundreds of candles alight.  Taking a few steps farther into the sanctuary, your eyes are drawn immediately upward to the top of the dome.  At the highest point is a huge icon of Christ Pantocrator, Jesus the Almighty, the creator of all, with his hand raised in blessing.  Below him are hundreds of icons on different levels, painted in gold on the ceiling and walls: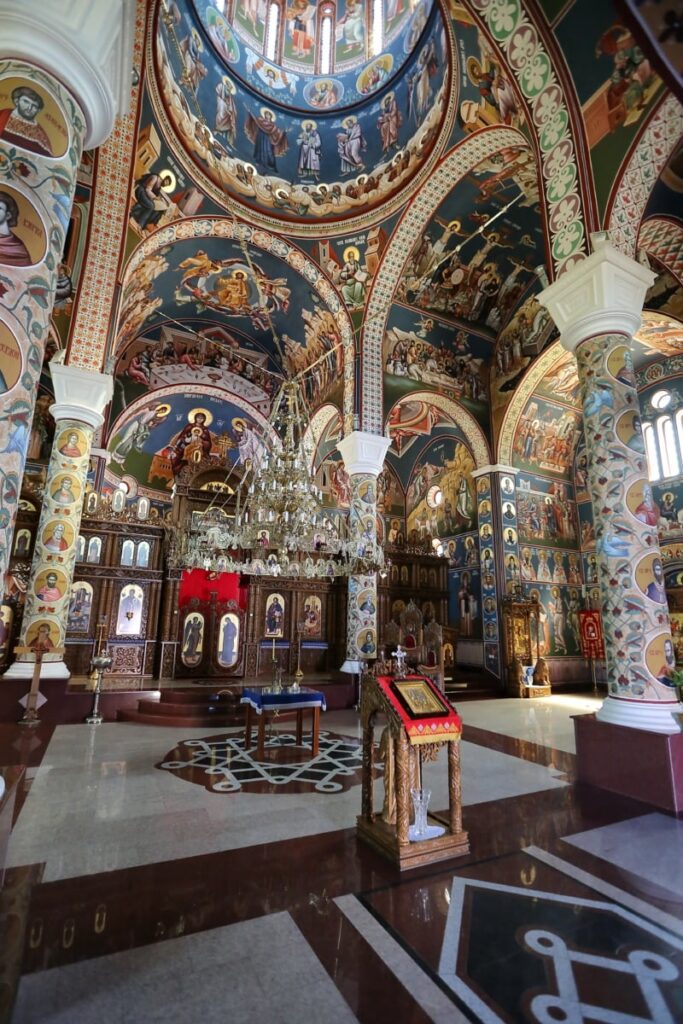 First of Mary holding the infant Jesus– Theotokos, God-bearer– then below her were icons of many angels and archangels, then of the four gospel writers, then of various prophets from the Old Testament, then of heroes of the New Testament, like Peter and Paul, then there were gilded paintings of certain saints recognized by the universal church like St. Jerome and St. Francis and St. Benedict.  Underneath them, getting closer to floor level, were dozens of icons of regional and local heroes of the faith who have gone before.  Interspersed throughout are scenes from the life of Jesus, and if there was a spare spot of space on a wall, it was most likely filled with an image of some kind of heavenly being.
Not one inch of the church's interior was uncovered or without symbol.  The walls were a flurry of activity, and because of the flickering candlelight, they truly seemed alive.
When you enter an Orthodox Church for worship, you stand, and keep standing—for the whole service—almost all of which is singing.  The point is made clear, equally true in a high school auditorium, in our private devotions, and in a gilded church: 
When we worship, we are joining a heavenly chorus that is always worshipping.  We are adding our voices to a worship service that is always going on, and going on whether or not we recognize it.   
In that winter years ago, the contrast between the dark and the very cold outside, and the light and the heat inside was striking, just like the contrast between the absolutely grey and grimy drab of a depressed urban center in a former Soviet state and the golden walls inside the church—an unforgettable contrast between death and life.
This is the powerful fruit of the work of artists and architects.   Stepping into an Orthodox church is like stepping into another world, which is completely by design.  The statement the church makes is crystal clear—there's another world that is real, though normally invisible, and we're a part of it, if you have eyes to see it and are willing to join in.  In fact, that which is normally invisible is in fact the most Real… though sometimes, the veil between what is seen and unseen drops, and human eyes can see what is most often hidden.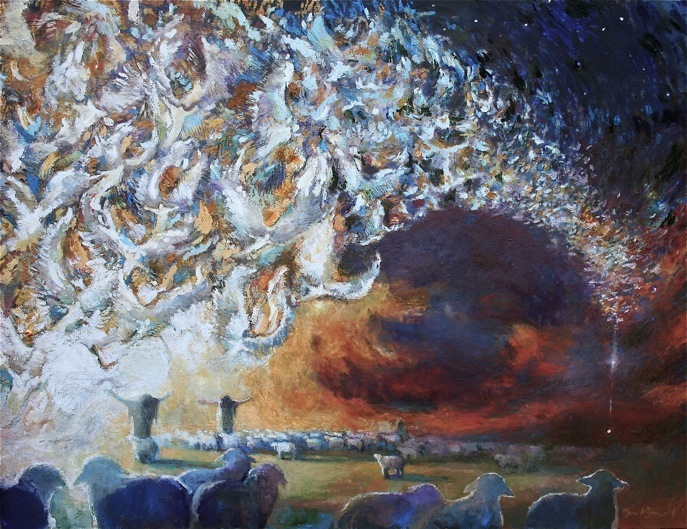 Daniel Bonnell, Seeing Shepherds, 2011.
That's exactly what happened to a few lowly shepherds 2000 years ago in the black and cool of night on a lonely and quiet field in Palestine.  One moment, the dome of heaven was dark, and the next it lit up, first with one angel, shining with the very glory of the Lord, like sunlight, who spoke a great message, "Fear not, for behold, I bring good news of great joy that will be for all the people.  For unto you is born this day in the city of David, a Savior, who is Christ the Lord."
And then suddenly, the whole sky lit up, and that angel was joined by hundreds upon hundreds of heavenly hosts, angels and who knows what else, and prefiguring the future, the whole world became a huge sanctuary, and the heavenly host sang, and I think Handel probably got it about as right as anybody could, "Glory to God in the highest, and on earth peace, Shalom, on those on whom God's favor rests."
The characters of Advent teach us about worship, and there's a lot to learn.
Notice it's the angels and the heavenly hosts who are worshipping.  These angels show simply that worship is knowing who God is, knowing what he's done, putting a few words on it, and saying, "God, you get the glory!  You're the one who's lifted up.  You're the only one worthy of our praise… and here are some reasons why."  Worship is very simply letting our thoughts and voices and bodies respond to Reality, that God is God, and a great God.  We are wise when we express our affection and allegiance to him in worship.
These heavenly beings worshipped large and loud, full of light, and God-focused.  And so should we.  When we do, we're only joining with that worship that is going on all the time, like the pictures we get in Revelation.
The message that was given by the angel—God has come to earth, Jesus is here,  Messiah has arrived, the savior of the world has come—is probably the most joy-filled, hope-filled, long-awaited, important message that has ever been delivered.
And let's not miss the two big surprises here:  who the message came to and where they were when it came.
Two Surprises
First, this announcement came to shepherds on the lower rung of the ladder of their society.  If you've ever felt less-than in your society for whatever reason, this is good news.  God comes to the lowly.  Because of their jobs, shepherds were most often unable to participate in the religious observances at the temple and were seen as less than righteous.  As they traveled from place to place with their flocks, some of them felt free to "borrow" things from fields and farms without returning them and were often considered as little better than thieves.  One writer puts it "how ironic that those least likely to be welcomed in worship would be the first to hear the great news from God's own heralds."   In the case of these shepherds tending their sheep not far from Jerusalem, it's especially ironic that many of their lambs would have been used for sacrifice in the temple, to atone for the sins of the people, just like Jesus would 33 years after this glad announcement.  
I wonder if these shepherds found a deeper fulfillment in their work because of how their sheep would be used.  I wonder if they had been able to connect the dots between what might have looked like common labor, but was actually a part of God's larger work in the world, and therefore had immense meaning.  When we can do that, connecting the dots between our work and God's Kingdom, it's a lot easier to worship 24/7, not just early in the morning alone or on Sunday mornings together.
It's a reflection for another time, but the Hebrew word "Avodah" can be translated both work and worship.  Tom Nelson puts it that "the various uses of this Hebrew word tell us that God's original design and desire is that our work and our worship would be a seamless way of living."
The second surprise—yet in light of the fact that our work and worship are connected, maybe it's not so surprising—the angel came and host sang to these shepherds while they were at work, out in their quite literal "field office."  They weren't in prayer, or at the temple, or in a church service… they were on the job.  Somehow through this, work itself is dignified.  When we are on the job or in our workplace, God can show up there and give us great messages just as easily as when we're in private prayer or together on a Sunday morning.    
The Response
The shepherds' response to this remarkable announcement of the birth of Jesus is instructive to our own response to the remarkable news that a Savior has come into the world.  What they did is clear in vv15-16.  They said, "Let's go and see what this means!"  And they went fast, they made haste.  The language communicates urgency, literally, "They kept saying, 'Come on!  Let's go!  Let's hurry to see Jesus.'"
Then they worshipped him.  They'd been told by the angel that the baby they would meet was three things at once.
First, Jesus was a savior – Second, he was the Messiah – Third, he was God.
That's all they knew, only a little but an awful lot, and certainly enough to assume that when they saw their savior Messiah Lord, they would have worshipped him, like the foreign wise men who would arrive a little bit later.

Stephano Tzangarola, Adoration of the Shepherds, 1688-1700.
Third, we see in v17, they spread the word.  What had been told them, they told, what they had seen, they bore witness to.
And last, v20, "And the shepherds returned, glorifying and praising God for all they had heard and seen, as it had been told them."  They didn't change their careers and go to seminary… they went back to work; they went back to their field office to worship God there.
Christmas day is a fantastic day to go and see Jesus with haste, worship him, and tell others about what you know about him, no matter how little.
And friends, next year will be full of Mondays, Tuesdays, Wednesdays, Thursdays, and Fridays.  And whether we find ourselves in the office, or at home, or in a classroom, or at a worksite, or even looking for work which is a job in itself, every day we have the chance to be like the shepherds—to return to our workplaces worshipping God, glorifying God, and praising him.
And you never know when it might happen, when the ceilings and the walls are transfigured, when what we can see with our eyes becomes the sanctuary that it actually is, when what is normally invisible becomes visible, when we can see the Real through the real.  You never know when God might have a message for you.  You never know when we might be reminded that we are not alone, that God is always worshipped, and that we can at any time join the heavenly chorus and join in their song—not only in church and not only at Christmas…  "Glory to God in the highest, and on earth Peace."
On the journey,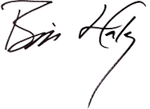 PS:  I love this song about the shepherds by Bruce Cockburn.  Maybe it will touch you too.
---
"SOUNDINGS" posts consider topics that are important for our society, for the Church, and for our own spiritual journeys.  To 'take a sounding' is a nautical term about using depth to determine where you are and where you're going.  These writings are designed to do just that.  Please share this post with friends you think might appreciate it.  If you would like to get SOUNDINGS posts from me sent directly to your inbox, click here.