We are very grateful to feature this piece by our good friend Laura Mastroianni.  Laura is a 2017 Coracle Fellowship Alumna, a regular at Coracle Community Gatherings, and a part of the launch team for the Coracle Fellowship in Baltimore, where she shares her delicious baked goods with the Fellows every retreat!  We hope you will be blessed by her reflection, and spurred on to consider your own creative endeavors anew!
---
Measure.
Whisk.
Blend.
Fold.
Stir.
Knead.
These are some of my favorite verbs.  I recently admitted to a friend that I read cookbooks and recipes like most people read novels.  I can spend hours looking at, comparing, considering, and imagining what I might make.
I put that part of my heart on hold for a long time as the challenges of life and teaching in the classroom zapped my time and energy.  But that hidden-deep-inside passion came alive these past two years, much like a butterfly emerging from a cocoon.  The catalyst for this was, in part, reading Bread & Wine by Shauna Niequist.  I felt myself exhale the tension I had been holding for so long.  My soul responded, "Yes!"  She was speaking my language and I allowed myself to dream.
I enjoy creating all kinds of dishes, but lately I have focused on baking.  What is it that makes the art of baking so satisfying for me?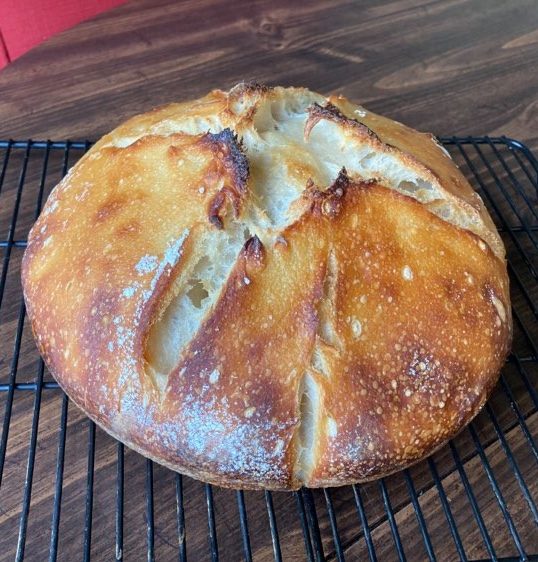 I love the velvety, soft feel of dough as I squish and push it with the heel of my hand.  The hum of the mixer as it whirrs is musical and hypnotic.  The golden crags and crevices atop the round of sourdough bread, the glaze that glistens on muffins and coffee cakes – just beautiful.  The magic I savor when butter mixes with brown sugar – when butter mixes with almost anything really – YUM!  Oh, and the aroma of apples and cinnamon giving in to the heat of the oven – WOW!  Mixing a few ingredients together is such a simple act, yet all my senses come alive as I engage in this art.
In the dark hours of the morning while the world is still and quiet, I commune with God as we talk about who we are going to serve and what we are going to make.  It may sound silly, but it feels like holy ground.
Prayers go up for each person as I measure and mix.  I feel a connection that is hard to describe as I consider their hearts and what is going on in their lives.  I might be making snacks for a group on retreat, or a gift for a friend's birthday or "just because" God put them on my heart.  Maybe I am preparing dinner for a friend who is busy or someone who is grieving.  I am a nurturer and I love offering comfort for the body and soul while meeting a need.
I feel connected to the past as I consider that people have been combining flour and water to make bread since the beginning of time.  God's provision is represented by bread, in both the Old and New Testament: manna from heaven, feeding the 5,000, His body given for us… Good Friday felt especially poignant as I ate the bread I had just pulled out of the oven.
Shauna Niequist says,
"When you eat, I want you to think of God, of the holiness of hands that feed us, the provision we are given every time we eat. When you eat bread and you drink wine, I want you to think about the body and the blood every time, not just when the bread and wine show up in church, but when they show up anywhere – on a picnic table or a hardwood floor or a beach."
I love that.
As I write this, the aroma from my oven fills my living room and holds a promise of what is to come.  I smile as I imagine my friends and family one day soon gathered around my table – the love, laughter, and fellowship – oh, that speaks to my heart.
This art of baking, of creating, comes from the truest, deepest, God-shaped place in me.
Is God inviting you to reawaken a creative part of your heart that has been on hold?
Are there steps you can take to respond to that invitation?
Do you feel the freedom to share this with someone?