by Freddy Adams, 2018 Coracle Fellow
Last month I set off for a 10-day cycling adventure.  The first part I did with a friend through the Shenandoah Valley, and the other part I did solo down the Blue Ridge Parkway.  I have had this approximate route on an unofficial bucket list ever since moving to NoVA 9 years ago.
Four months prior, I left my job, with a wild idea I've called the "healthy hiatus," a time for professional and spiritual resetting.  Although the trip was sketched-in, it changed when the virus hit and the world shut down.  The pilgrimage trips in Spain and Guatemala that I had eagerly looked forward to were canceled.  Disappointed but undeterred, I incorporated the idea of pilgrimage into my bikepacking trip.  Instead of it simply being an adventure for my amusement and adrenaline fix, I changed my posture to use it to intentionally seek the Lord, while continuing to meditate on an on-going theme of abandonment to God.  When I loaded up my bicycle, I made room for a copy of Wilfred Stinissen's​ Into your Hands Father,​ which came highly recommended as companion reading for that theme.  I asked for prayers during my journey from friends, and family.  Finally, I pedaled the first stroke, unsure of how the Lord might use it.
Now that I've returned from this pilgrimage, it's hard to sum it up.  I'm a sucker for those slick 1-page infographics that show all the stats and numbers in a creative colorful layout.  One for this trip might show elevation ascent and descent using the Washington Monument as the unit of height, the total number of calories consumed by a quarter-pounder equivalent, the amount of salt I sweated in 16 oz.cans of Morton salt.  The data could get really interesting!  Although part of me even now is tempted in that direction, it wouldn't be a suitable summary.  But, honestly, I wouldn't have realized that until about halfway through the trip.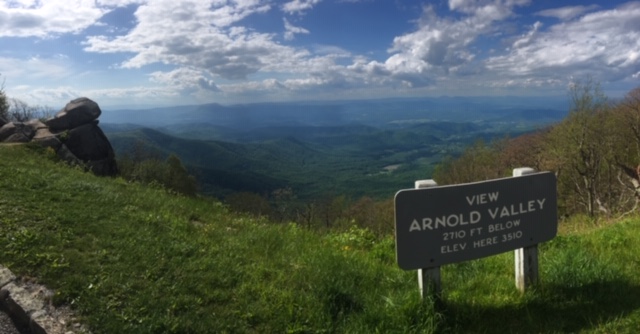 Morning Day 6: I woke feeling lethargic and discontent even though I had decided to 'treat' myself that night to a comfy hotel bed rather than my hammock in the woods.  As I slowly ordered myself that morning, I vented to God in my journal, "This trip was supposed to be a spiritual retreat connecting with you in word and prayer and silent reflection.  My heart is consumed, distracted with logistics.  I'm only thinking about the next destination– when I need to stop to refuel, to hydrate, to stretch, how to stay on the move rather than how to be present with you."  I was obsessively reviewing the logistics of whether and when I would have access to water, or food, or shelter.  I had recently memorized Psalm 46, and it was in that moment that I remembered the one verse that, ironically, I couldn't remember while biking the day prior:  "Be still, and know that I am God. I will be exalted among the nations, I will be exalted in the earth!"
Why had I been so preoccupied, so distracted with all the planning, and the numbers?  The trip was straightforward.  All the details were mapped out and I literally had no turns.  It would be the same road for the next 469 miles.  What great peril did I face if I didn't make it to my daily destination, or even my final destination?  I could stop and camp off the road at almost any point along the way.  If I did fewer miles one day than planned, I could make them up another day, or hitch a ride, or any number of options.  It dawned on me that even my end-goal of making it to Cherokee, NC by Friday was arbitrary.  Yet this arbitrary goal was causing all sorts of distraction and angst and taking away from being available to hear the Lord, whose will in the present moment is the only thing that's not arbitrary.  "How much of our planning is a waste of time!"  Stinissen reflects, "We plan very many things that never happen, and we must constantly change our plans." (Into Your Hands, 59)
It was that day on the road that Matthew 6 had new profound meaning, "Therefore do not be anxious, saying what shall we eat or what shall we drink…"  It was I, the "carefree" vagabond cyclist, that needed to be reminded to let go and let God instead of constantly striving, straining, and worrying about the arbitrary goals I had set.  I needed the reminder to be abandoned to his adventure which is always far superior to what I dream up.  As Stinnison says later, "those who do their own will are constantly running into their own limitations." (Into Your Hands, 65)  I think I felt that burden subtly growing.  The burden of the anxious orphan child who is left to fend for himself, feed himself, clothe himself, shelter himself.  But even the birds are fed and the lilies clothed.  Am I not of more value than they?
His plans are so much greater in scope, his provision more sure and abundant, his burden so much lighter.  On Day 7 the Lord illustrated this lesson.  To trust and obey, to surrender utterly to his will is like cycling through fog as thick as cotton. The centerline and culverts on either side are visible navigational references but the road 20 yards ahead is mostly unknown. It's both terrifying and freeing.  To pilgrim with the Lord in this life is to diligently make plans and then hold them so loosely it's as if there were none at all.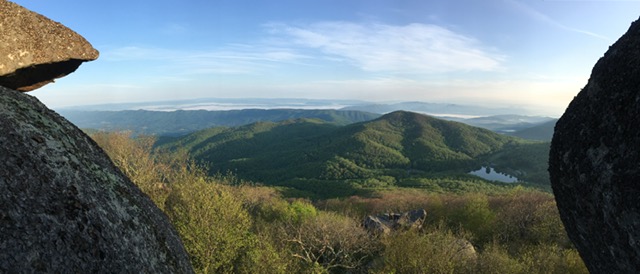 He beckoned, I willfully said yes, and through that gradual change of spirit, I could let go of the numbers and truly experience each moment of the trip fully.  And once my mind, body, and spirit could be alert in each present moment, there was so much beauty and goodness to take in!  From the mere observance of a hotel employee named Roberta faithfully praying over her meal, I was exhorted to dedicate days of prayer to friends and family, taking my thoughts off saddle sores, and rain, and grueling climbs, and instead focusing on others.  My heart was filled with thankfulness in awe of numerous overlooks and mountain views unveiling immense valleys below and endless ridges beyond, tremendous testaments to the unimaginable beauty of the Creator himself!  Moss and ferns and blooming rhododendrons lavishly decorated rocky roadside embankments.  I saw the cutest unblemished spring calves skipping in pastures nearby.  I heard mountain streams and roadside waterfalls and the breeze kissing the tops of vast acres of forest canopy.  I heard the morning chorus of countless birds celebrating the first light of each new day.  I smelled the sharp clean scent of a white pine forest in dense mountain fog.  I was entranced by the delicious taste of chicken carbonara and perfectly toasted garlic bread accompanied by a rich porter beer in a pub along the way. I could even find contentment in my umpteenth energy bar or bag of instant mash. And as I felt the rejuvenating cold spring water baths wash off the day's grit and grime, I gloated in a simple clean dry hammock that awaited me.
Not everything was a fond moment, but even the most miserable, wet, rainy days were redeemed through simply surrendering to the Lord my discomfort and trusting his goodwill for each day with humble reliance on his provision and eager expectation that he had many good things in store.  "When we are so preoccupied with our past and our future," writes Stinnessen, "we naturally have neither energy nor openness left for the present moment, the only moment that mediates God's will." (Into Your Hands, 61)
Triune God, Thank you for meeting me on the way.  Forgive me for my heart is fickle.  Train my will to surrender to yours, mold my spirit to eagerly seek you in each present moment.  Amen.