A Christmas Letter from Nate Bacon of InnerCHANGE,
our partner ministry in Guatemala.
Dear Family and Friends,
Christmas as a time of giving is a beautiful thing!
Sadly, our consumerist society has warped that wonderful ideal, into a bit of a buying frenzy which can cloud our ability to see the kind of giving God models for us in Jesus, who draws near, takes on human flesh, and shows us the way to live and love, offering in the end the gift beyond gifts, His own flesh and blood for the sake of humanity.  It strikes me that it's that giving of ourselves that is core to everything.  "No greater love than this…to lay one's life down for one's friends."
In October, we had the privilege of meeting one of the holiest people I think I've ever met, who has dramatically modeled that kind of giving.  Her name is "Chona" and she is Maya Kaqchikel from San Lucas Toliman, an indigenous village on beautiful Lake Atitlan, here in Guatemala.  Chona and her family grew up in extreme poverty at the margins of society.  Her people suffered greatly during the long, bloody 36 year civil war (ending in 1996), where the indigenous were targeted, and those helping the poor and working for justice were considered subversive by the government and military.  In fact her husband was among the 40,000 Guatemalans (almost all indigenous) who were "disappeared" during that long nightmare.  She never saw him again.  Instead of causing her to cower in fear, however, Chona mustered incredible faith and courage, and (in partnership with her parish priest) saved the lives of countless children and adults who would have been murdered were it not for her intervention.  She received death threats as well for her commitment to her people, but continued unabated. The phrase she mentioned continually when describing her calm in those hair-raising life-threatening situations was "my mind was with God".
Chona was also a friend of Fr. Stanley Rother, the pastor of the parish in nearby Santiago, Atitlan who was murdered and martyred in 1981.  The first US born martyr to be beatified in the Catholic Church, Fr. Rother was a humble priest from Oklahoma who loved his community to the bitter end.  He helped the Mayan Tz'utujil people in multiple ways to work together and better their life conditions.  He loved them…and they loved him.  Like so many during that time, he began to receive death threats, and decided to return to his native Oklahoma.  But, similar to Dietrich Bonhoeffer (a Lutheran pastor who was killed in a Nazi concentration camp) Fr. Rother felt he could not abandon his flock, and returned to Guatemala, fully aware that his death was immanent.  When they finally did come for him, he was sleeping in the parish library, but fought with his attackers to force them to kill him on the spot!  This was his final act of love so that his parishioners would not have to suffer the heartache of 'the disappeared' with no burial and no closure.
When the tragic news came to San Lucas of Fr. Stanley's death, Chona made her way quickly to Santiago to see how she could be of help.  When she arrived, his body had been taken away, and all that remained was a pool of blood.  She remembered in that moment how he had said, "If they want my blood, I will offer it for my people".  Chona immediately set to work tenderly scooping up Fr. Stanley's blood (revealing a military bullet) and depositing it into jars, which were later buried, together with his heart, at the altar of the Church.  His body was buried in Oklahoma.  Ten years later, the blood and heart were moved to a side altar, and mysteriously his blood was as fresh as when it was first shed for his flock.
What a blessing that Chona was willing to speak to a "Coracle" pilgrimage group from the DC area, later in the same month we met.  (Much more to say about that beautiful group in a future letter).  She agreed to speak to us in the library-made-chapel where Fr. Stanley had been killed.  To my amazement, she confided to me that she had not been back in that room since the day (nearly 40 years ago) when she scooped Fr. Rother's blood from the floor.  What an incredible honor!
All were moved to tears by her testimony, and we knew we were in the presence of a very humble, holy woman of God.
Chona does not know how to read or write, yet she has shared her story, and moved the hearts of thousands of people from around the world.  Her testimony, which bears the fragrance of the divine, has even risen from the hidden corners of Guatemala to the halls of world power!  In fact, just last Sunday our friend and Anglican priest, Fr. Bill Haley (the director of Coracle who brought the group to Guatemala), preached at a Church in the DC area, and shared Chona's story.  Many who attend that church are in leadership positions in the government.  Among them on Sunday, was even our Congressman friend, Robert Aderholt (Alabama), and Vice President Mike Pence!  How beautiful, and how like God, to lift up the lowly so that their prophetic voice and testimony might be heard on high!
We worship a God (Love incarnate) who was born on earth in weakness, a babe at the margins, a child refugee, who grew up in notorious Nazareth, and cast his lot with the outcasts and excluded of his day.  A babe who brought hope to the hopeless, a Light in our darkness, and caused earthly rulers to tremble.  This same babe of Bethlehem would love his flock to the bitter end, offering his own flesh and blood for the Life of the world.
Praise be to the God of Love, incarnate in Jesus, who shows us from birth to death what it means to lay down our lives for others…in the truest spirit of Christmas giving…
And praise be to God for those, like Blessed Stanley Rother, who have followed in his footsteps, offering even their own flesh and blood for their flocks, and for the sake of His Kingdom.
And special praise to God for Chona, a poor, illiterate, Mayan indigenous woman…a nobody on the world's screen, yet who reflects the very heart and glory of God.  "Chona" is actually a nickname.  Her real name is "Encarnación" which literally means "Incarnation!"  How fitting that Chona's very name reflects the reality that she has so luminously lived.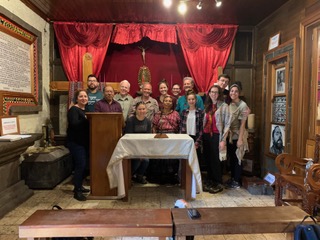 May we too find inspiration in the hidden Chonas of the world, who reveal to us what it means to love as we are loved, and may we find courage ('our minds with God') to stand in loving solidarity with the poor and outcasts, no matter the cost, for the greater glory of God.
"Do this…in memory of me."
In that same glorious Love,
Nate and Jenny