In mid-May of this year, 2019 Coracle Fellow and accomplished painter, Carolyn Marshall Wright, sustained a serious concussion. The injury, from which she is still recovering, left her largely confined to her home for the next four months, where she alternated between lying on the couch and slowly walking her dog around the neighborhood.  At first she was unsure whether or not she would be able to paint again. Since language was, at that time, more accessible than painting, she began to jot down phrases that came to her as she walked and prayed, and one Sunday in late July, found herself putting them together into this poem.  The accompanying painting is titled "Daylilies," and it is the first painting Carolyn was able to complete after her concussion.  We hope you cherish both artistic offerings and are encouraged to think how the Lord might use your gifts, even when you are not at 100% or even close to it.
---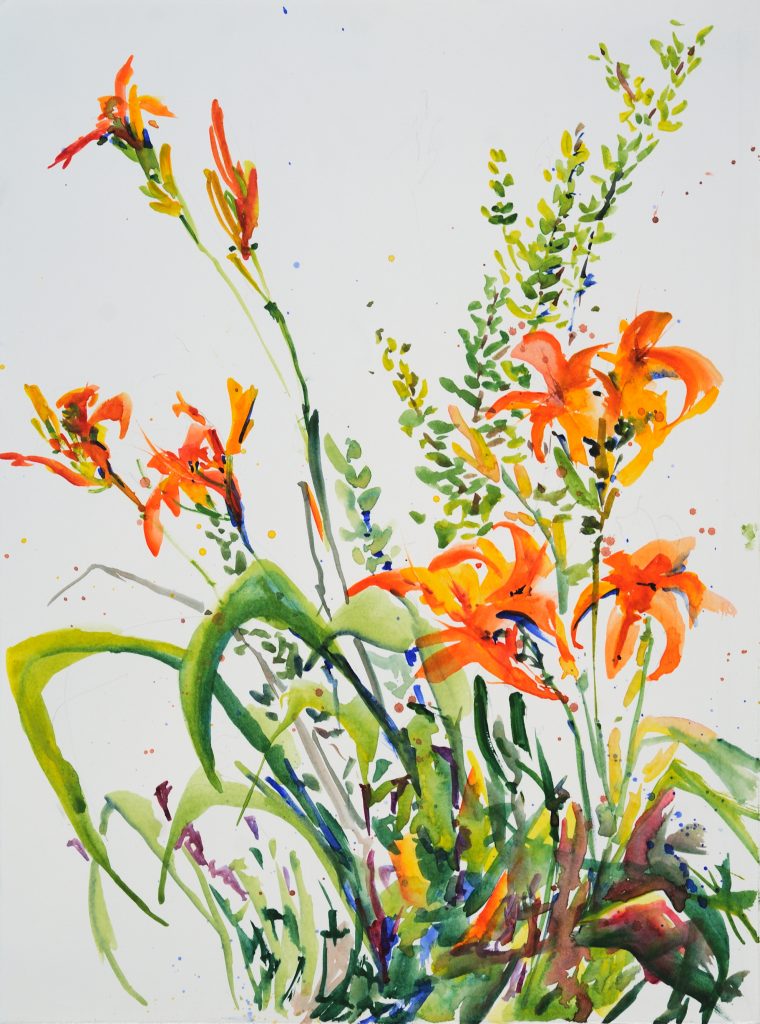 The Concussion
It didn't seem like a gift at the time,
Arriving, as it did, with a violent thrust,
With pain and bruises and such confusion.
It was a gift that took time to unwrap,
No scissors to snip past the knots tied tight.
When did I first glimpse its elusive worth?
Was it when I saw trees touching the sky?
When I lay, laughing, weak, with my daughter,
Also weak, and knew, now, her limits well?
Walked slow, meeting, greeting neighbors now friends;
Watched the dance of winged creatures, butterflies,
Bats, birds, found their empty eggshells,
Saw them teach their fluff-feathered child to fly?
Then? When did the ugly package transform?
Driven to patience, into a corner,
A corner that became like the famous
Narnian wardrobe, opening as it
Did into another world, a world that
Was waiting for me, just here, all the time.
---
To view more of Carolyn's work, you can visit her website at www.carolynmarshallwright.com or follow her on instagram (@carolynpaints). Please do not reprint or reproduce the words or artwork featured here without written consent from the artist.