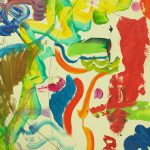 In the movie Monty Python and the Holy Grail, there is a running gag featuring monks in sombre garments, trudging through streets, chanting mirthlessly and monotonously in Latin, hitting themselves on the head with boards in between cadences of their chant.  Despite admiration and respect for monastic culture and discipline, that scene never fails to make me laugh. In that satirical depiction, I recognize something that I truly feel from time to time in my devotions.  My attempts to approach God can feel like those make-believe monks, saying the same words over and over, and hitting my head against a wall because it's dry and painfully ineffectual– there's no life in it.
Some of that is just me and the condition of my heart at a given moment.  But some of it is the way in which I'm trying to approach God.  Too often, I put devotional time in a box, or I think that worship or spending time with God has to look a certain way, i.e. very serious and involving lots of books.  To be clear, it can be that, and that can be very good, but about 5 minutes in a room with Mary Amendolia and Mary Jennings, our co-leaders for the In the Image retreat, will broaden your perspective on devotions.
This past Saturday morning, Coracle partnered with The Falls Church Anglican to offer a morning retreat exploring the incorporation of the gift of creativity into the act of worship, using a variety of different mediums. Creativity is a gift bestowed on us by God, the origin and Creator of all things.  I am astounded that The Creator wants us to be co-creators with him.  When we are able to do that, it IS an act of devotion, and God loves us to use the amazing brains he gave us in all the ways we can, like format spreadsheets excellently, rewire electrical systems more efficiently, thinking differently about symptoms to find a correct diagnosis, partner with diverse stakeholders to create a more robust advocacy group, make spaces, rooms, and canvases beautiful, write words that connect souls together, and much much more.
On Saturday morning, we were encouraged to fearlessly and freely explore this act of creativity and devotion by Mary Jennings, and Mary Amendolia taught us that contemplation is simply "a loving encounter with God", guiding us in creative exercises incorporating the liturgy and lectio divina.  So we were supposed to play, and be with God. Contem-PLAY-tion.  Get it? Though we were mostly quiet, concentrating on our different sketches, paintings, cuttings, carvings or sculpture we walked away from the morning refreshed and emboldened to approach God in our devotional time in new ways, and we had a lot of fun together.
Creativity is for everyone, and it has many different expressions. God wants us to use this marvelous gift in partnership with our own uniquely-designed characters. And of course Coracle loves everything that helps to bring you closer to the you that God made you to be.  Creativity is absolutely one of those things, whatever it looks like in your life.  So if you ever start to feel like you're slamming your head against a wall like those Monty Python monks in your devotional time, try drawing, or singing, or embellishing words of scripture, or something different that you feel like you could do with God, for God. Proud father that he is, he'll probably put the drawing up on his fridge, or play a recording of your song for all the angels in heaven, because he loves it when we are co-creators, enjoying his great gift and offering it back to him.