Martin Luther King Jr. said, "There is another element that must be present in our struggle that then makes our resistance and nonviolence truly meaningful. That element is reconciliation. Our ultimate end must be the creation of the beloved community." On Saturday, September 9th we spent the day thinking about reconciliation, history and creating another layer of beloved community in our cherished city of DC. We met at Hopkins Center in SE DC where Little Lights, (an NGO that empowers underserved youth and families in DC) has an office and after school tutoring space. Steve Park, the founder of Little Lights shared his personal story woven into Little Lights inspiring history. We talked about the Kingdom of God and where issues of race fit into a holistic gospel theology. Steve is running his second course on racial literacy and if you are able to attend, I highly recommend it! You can find more info on registration here. Part of the racial literacy course comes from a wonderful series that PBS did on Race: the Power of an Illusion. There is a particularly indepth and eye-opening look at the history of redlining in America and the continuing effects of his on housing in-equality today.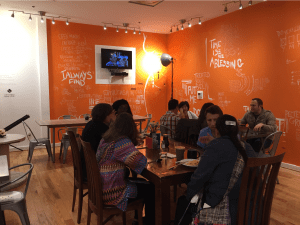 After a brief prayer walk of the neighborhood, we ate lunch at Art-Drenaline Café. This is a delicious restaurant and coffee shop housed within the Anacostia Art Center. If you haven't had a chance to see either space, I highly recommend them! The Art Center has a theater space, boutique shops and changing art exhibitions and it is a great way to support local business, which is something we are passionate about at Coracle (see common good things).
Next stop was Pennsylvania Avenue Baptist where Kendrick Curry, a long time friend and Advisory Board member for Coracle shared his vision for how the church can become a beehive of flourishing for the neighborhood. PABC had thriving ministries to those with mental health challenges, job seekers, seniors, single moms and those with particular health issues, including diabetes. Pastor Curry spoke of the multitude of challenges for his community in the area of health. Not only are they living in a food desert in Ward 7 but many of the senior citizens are forced to make the difficult financial choice between going to their doctor's appointments across town or filling their prescriptions. These are some of the opportunities that Pastor Kendrick sees not as challenges but as places that Christians can bring the Kingdom of God here in DC. He has an inspiring vision to reconstitute the church property into a place that could provide restaurants, clinics, employment helps, a gym and many other resources that are currently unreachable across the river to local residents.  We ended our day with prayer and sharing at the new Little Lights house in Anacostia. Steve hopes this house will provide a restful setting for retreats or work parties who would like to spend time getting to know and serving the Ward 7 & 8 community.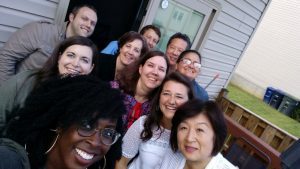 Many of the participants were struck and discouraged by the tangible level of need that still exists in our own city of DC. Despite the fact that the Capital building is only a mere two miles up the road, many communities in SE DC are vastly under-resourced. Some of these continued inequalities are effects of years of systemic racism. Many wonderful people are working to redeem this history by small acts of love and charity in the name of Christ. Others are forging a path of great vision for what a reconciled (and resourced) community looks like in our city. We've listed here just a few of those groups. If you are interested in getting more involved please feel free to reach out to them directly. We will likely run another day to engage our faith in the city in the Spring so do stay tuned for more information.
Onwards toward that beloved community,
Erin