By: Kathryn McIvor
As a worship planner on the edge of burnout, I had mastered the art of being in a service without engaging too deeply, afraid that an encounter with God might just push me past the point of no return.  So I hid behind the computer running the slides, or the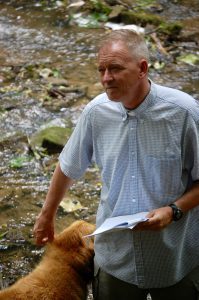 outline for the service, or the ushers, or, at times, my camera.  I could be physically present without having to be too deeply impacted.  But here at Corhaven, getting ready for a baptism in Holman's Creek, Bill was asking me to choose a famil iar physical posture- behind the camera- and to engage emotionally and spiritually.  Presumably for your sake, dear reader, but let's be honest- it has a lot to do with my sake too.
In John 15:9, Jesus says,
"As the Father has loved me, so have I loved you. Now remain in my love."
Borrowing questions I'm learning to ask- How has the Father loved the Son?  How could I see the Son loving me in that Friday afternoon? 
At Jesus' own baptism, the Father spoke words of affirmation and delight over his Son.  That Friday, I heard parents and grandparents and mentors speak encouragement and joy over Kaitlin and Jacob.  And I was reminded of all the people that have spoken blessing over me, including in preparation for my summer at Corhaven.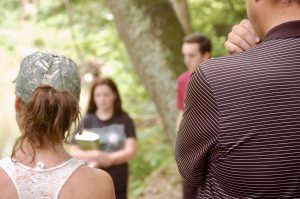 The Father gave the Son friends- his people, his ministry partners, his companions.  Watching three generations of family and friends-turned family and even a sister FaceTiming in from Rwanda, I was reminded that the Son has given me my people.  In this particular season, a lot of my people are three time zones and several thousand miles away, but he's also given me new people- every time Maira climbs into my lap I'm reminded that I've been given a capital F Family, for which I did not apply and did nothing to earn.  I lost track of the number of times that Friday afternoon that I was reminded by our guests that I was to consider myself a part of the family- to eat the food, to join the circle, to come visit the family farm in Missouri (no kidding- thanks, Jan and Wendell, for the open invite!).
And so, even as I stood in the woods, trying to find a great angle from which to capture photographic evidence of a day that will live on in family memories, and even as I shuffled plates and platters and garbage bags and chairs, I tried to experience this Divine Love, this Divine Life, that Jesus has promised that I can participate in.  In moments of silence by the creek, I watched the sunlight catch the water or the wind ruffle the leaves on the trees, and I let myself experience that Love.  As family swirled around the picnic tables and kids were running places and food was served, I let myself experience that Life.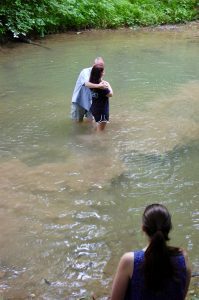 Mirroring the language that Jesus used, John captures this in 1 John 4:15-16:
"If anyone acknowledges that Jesus is the Son of God, God lives in them and they in God.
And so we know and rely on the love God has for us. 
God is love. Whoever lives in love lives in God, and God in them."
Sometimes I feel a bit like a kid learning to walk- learning to know and rely on these limbs called legs that are supposedly attached to me and bound by something called the laws of physics.  I'm learning to know and rely on the love that God has for us- the love so clearly displayed in the life of the Son and so clearly promised to us by the Son himself, sealed with the Spirit of God himself.