Dear fellow pilgrims,
As you know, from time to time I like to send a bit of a personal letter to share what I'm excited about and thinking about Coracle.  At the beginning of fall, it's time for that letter!
We're just on the heels of the canonization of Mother Teresa, a person who has shaped Tara and me probably more than any other.   She said once, "You and I must let Jesus live in us and through us to the world."  There's no quicker, deeper, truer way to say what Coracle is fundamentally about, helping us and others live more deeply into that truth, charge, and invitation.    Everything we do is either (or both) aimed at helping you let Jesus live in you more fully or enabling Jesus to live more fully through you into the world.  And I would say that this is most deeply what the world and our country needs in these tumultuous times: Christians allowing Jesus to live more freely in us and move more freely through us.
So to that end I'm so excited about our 'core offerings' like retreats and spiritual direction.  We keep on adding spiritual directors which is great, and I'm more confident and excited than ever about our fall retreats at Corhaven, and am delighted that we're making more retreats available in Baltimore and Northern Virginia.   We've long looked for a regular retreat space in NoVA, and have found it in a new partnership with the Catholic retreat center of Missionhurst in north Arlington, near Marymount University and the Metro 29 Diner.  Our aim is to make retreats there feel as much like Corhaven as possible, and their 10 acres of contemplative space and similar mission makes that possible.  Thanks Father Joe!
The Corhaven Graveyard continues to draw visitors from around the country after our dedication service last spring.  If you didn't get to see this short but moving video recap, check it out.  And Common Good Things will expand this fall with more garden boxes, new online ordering, and a new line of products from other Makers.  Stay tuned.
Speaking of staying tuned, we have a major staff addition coming in October that I can't wait to share with you!   And, we'll 'go public' with a new line of Coracle ministry offering:  "Pilgrimage".  Ever wanted to go on a transforming mission with us to Nepal, or Iona, or Israel/Palestine, or the Camino in Spain, or Rome, or Kolkata?  Starting next year, you can.
Thanks to the generosity of so many of you, our finances continue to be solid which puts us in the position to keep on dreaming, praying, and growing.  I'm really excited to offer a new way to partner with us in this way by enabling folks to become a "Hospitality Partner" with Corhaven by supporting us regularly in smaller monthly amounts.  Did you know that a gift of $50 a month enables us to offer a full week of ministry at Corhaven?  I didn't either until we researched it.  For those of you who have been blessed by Corhaven or just know it's a blessing to many, we'd love for you to enable Corhaven to keep happening by becoming a "Hospitality Partner".  Click here if you'd like to do that, and thank you!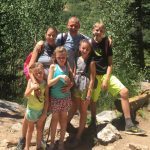 And on a personal note, the Haley family is doing well.  We had a great summer and hit the fall refreshed and ready for it.   Tara continues to work two days a week as a nurse practitioner in Harrisonburg with elderly folks in long-term care facilities and hospice, which is very demanding but also very rewarding work.  I continue to be so inspired and grateful for such meaningful ministry opportunities and dear friends at The Falls Church Anglican.   Liam has started 7th grade, and Iona 6th, and Karis 3rd, and Maira has started 1st grade.    As I often say, "Life is full, but full of good things…thanks be to God!"  And as I often like to quote, "Further up and further in!"
Thank you, dear friend, for being with us….
On the Journey,