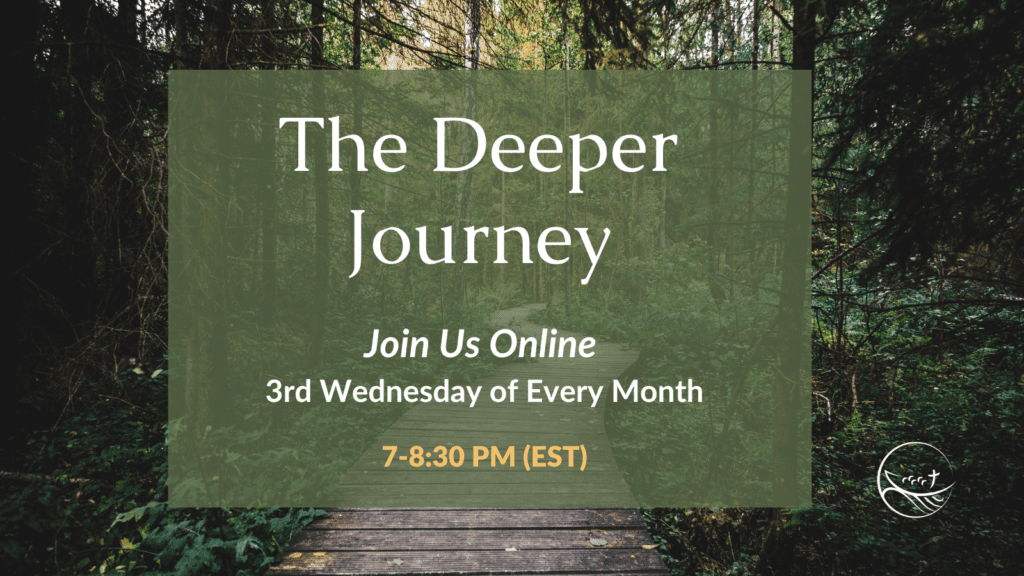 Are you looking for community or for ways to make space for reflection on God's movement in your life? Consider joining us for The Deeper Journey! The Deeper Journey is a monthly, virtual gathering space for us to come together from wherever we are. We meet on the third Wednesday of each month from 7-8:30 PM (EST), and our next meeting is Wednesday, May 17 (register here to receive the Zoom link). Ken Wettig, Community Minister for the Shenandoah Valley, will be leading our time this evening.
During this time, we come together to 1) go deeper into Christ, 2) go deeper together, 3) enable each other's vocations, and 4) move out for the Kingdom. What this generally looks like is an opening devotional offering from a Coracle community minister and time for reflection, breaking out into small groups to share what God is doing in our lives and encourage one another on our journeys, considering ways we might bring God's kingdom where we are, and closing with a time of prayer.
During my time of joining this gathering, I have found it an incredibly life-giving, supportive, and safe space to inhabit. We need space to reflect. And we need Jesus. Yet sometimes amidst the bustle or anxieties of life, it can be difficult to be still or to feel God's presence. Both the act of gathering and the commitment to setting aside time to reflect are needed pauses. Even on days when I struggle to be present or I question if I have time to be online for 90 minutes, I am always grateful I've joined The Deeper Journey. I find it is always exactly where I am meant to be and always something I need to hear – whether it is a reflection from one of our community ministers or a comment from someone in my small group, I am always encouraged and refreshed from this time. So far this year we've considered the stories of Nicodemus and the Samaritan Women, the beauty of our Good Shepherd, and the alignment that comes from Jesus being our Cornerstone.
Jesus said "For where two or three are gathered in my name, there am I among them" (Matt. 18:20). Matthew Henry, in his Concise Commentary, frames it this way, "Wherever and whenever we meet in the name of Christ, we should consider him as present in the midst of us." This is the beauty of being on this journey together!
As Rev. Bill Haley reflects in his piece, "Why Community?":
"If there is another reality that we are acutely aware of, it is that, alone, none of us will live the life with Christ that we most deeply desire. Most likely and in most areas of life, left to our own devices we won't live the way we want to without intentionality and community.

More personally, I find that some form of Christian community and the deeper journey with others is necessary if I am going to be transformed more and more into the image of Jesus. I can't follow Jesus the way I think Jesus wants me to follow him without the help of others.

That's true for all of us. We need the help of others for a spiritually disciplined and deepening life. Thus we are a community of needy people, and this is nothing to be ashamed of. Rather we celebrate our weakness, realizing that it is in weakness that God's power does its best work."
If you are looking for more intentionality and community in your life, we invite you to join us! You can read more about what this looks like in our community guide, and you can register for The Deeper Journey here (please contact me if you have any questions). We hope we'll see you at our next gathering.