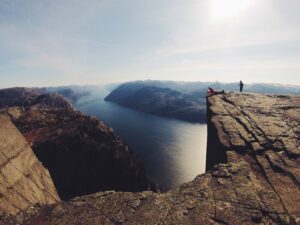 Without a few harrowing twists and turns, stories can quickly lose any sense of plot, on the other hand without an ultimate redemptive conclusion, it doesn't much seem like a story at all. Over the last decade of life I have come to embrace a conviction, which I believe to be implicitly Christian, that what we call "life" is best conceptualized as a character role within an unfolding sacred story (For more on this check out my Space for God "Hope, In God's Story"). While perhaps such an approach to life might strike folks as a bit romantic, the truth is I experience this "life as story" concept as a double-edged sword. After all, any story worth its salt is full of what we might rosily refer to as "twists & turns" or in darker circumstances might more accurately be called "harrowing experiences."
On this side of Holy Week, we might wonder if Jesus would see the last week of his story as romantic? 
It was on the downside of something at least approaching a harrowing experience that God first introduced me to the Haley family, and their little retreat space called Corhaven. I was just preparing to bury a "Kingdom dream" which for the previous five years our family and community had poured much of its life into. It was called Our Community Farm, and it was located about 10 miles down the road from Corhaven. "The Farm," as it was affectionately known, was a place where friends from our broader community who struggled with drug and alcohol addiction could come and live with a few Christian families, explore the 12 steps of recovery together, and find a place of belonging and purpose within a kind of extended family of faith. All while working together on 15 acres of land in ways we hoped might one day be recognizable as regenerative farming. 
"New Creation through Cultivation," was our clever double meaning tagline (Who doesn't love a good tagline?). At around the four year mark, we experienced a series of harrowing realities which included the tragic death of a dear friend and advocate of our ministry, and both a financial and leadership crisis within our non-profit organization. Suddenly not only was our family not going to get to build on this land we had come to love the house we had begun to design, but within 6 months, we would all need to find a new place to live. Something which it is worth noting was a lot easier for the Christian families than it was for those who came to us from the streets.
It was amidst this crisis that personal times of retreat at The Cottage at Corhaven, and times of spiritual direction with Bill Haley became one of the key places for me to try to rediscover  something resembling a plotline in a moment when life seemed a lot more like a maze than a story. 
The other place where I was entrusted with the opportunity to rediscover the storyline of life was our family's wonderful home church known as Early Church.  Having been through some recently disorienting realities itself, the church which our family helped to plant, invited me into a pastoral role after a season of sabbatical following on the heels of The Farm's collapse. Since that time, for the last eight years, I have had the incredible honor of pastoring that church community through many of its own twists and turns (perhaps Covid-19 rightly classifies as "harrowing experience"). Few places can serve to help an individual find their place in God's Story over the long haul of life like a healthy church community. Early Church has been such a place for me and my family. Yes, I can say that even having been its pastor!
This upcoming Pentecost at the conclusion of my third and final term as pastor with Early Church, I have received and accepted another incredible ministry opportunity, one that connects meaningfully with my own story. As of June, I will begin a full-time role as Community Minister of the Shenandoah Valley within Coracle. In furthering Coracle's mission of spiritual formation and Kingdom action in the Valley generally, I am also excited to be placing significant focus on how to see that mission well executed among the next generation, through programs like SLAQ, and beyond. Additionally, a significant part of my role, as Coracle moves forward with The Next Journey, will be to shepherd Corhaven as it expands into a more fully developed Corhaven Retreat Center. That is, to shepherd both the place and the people who, like me ten years ago, will come to Corhaven in search of a chance to rediscover amidst the seemingly disorienting maze of modern existence, their unique place in God's Story.
The fact that I get to enter into this new chapter as a community minister to the Valley, feels a lot like one of those scenes where a character is approaching the crest of a hill and has high hopes for what is on the other side. Yet also knows better by now than to pretend any ability to anticipate how a given scene in this story will unfold. For myself, the reason I can move toward that crest nonetheless is because knowing the "Author and Perfecter" of this story, I'm pretty confident in how it all works out in the end.
As I enter this new chapter of ministry I am excited about the ways in which The Next Journey is really an opportunity to create more spaces for our various plotlines to intersect, challenge, and support one another along the way. I look forward to building new relationships with individuals and partnerships with churches as together we seek God's purposes for the Valley. Speaking of the Valley, know that while Corhaven will be closed through the summer as it prepares to relaunch as a Retreat Center in September, a few ways we can connect together between now and then include:  May 6th Corhaven Work Day & Celebration (join us!) as well as every 3rd Wednesday when you can join me and others online for The Deeper Journey. 
Grace & Peace
Ken Wettig