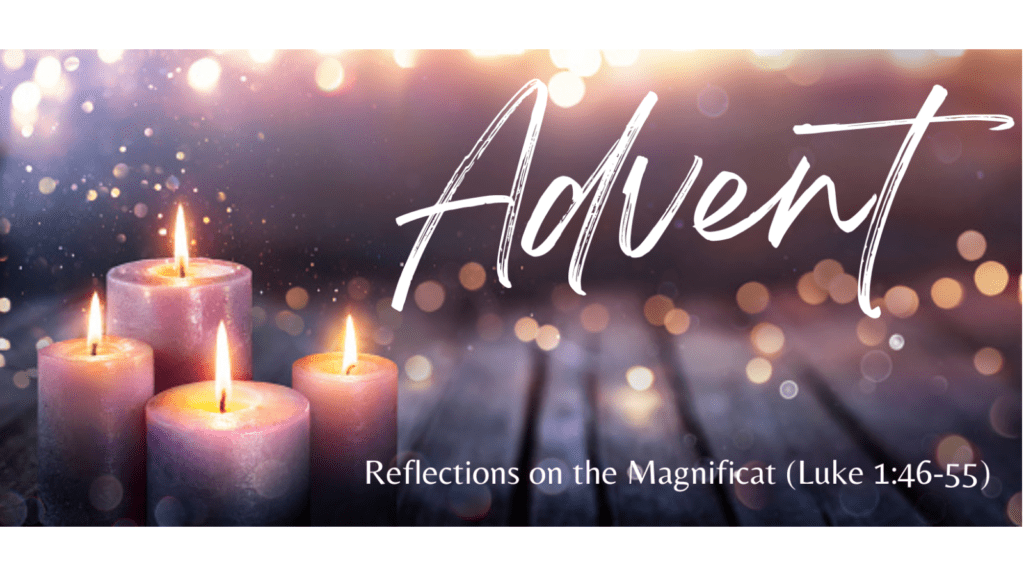 Mary responded,
"Oh, how my soul praises the Lord.
How my spirit rejoices in God my Savior!
For he took notice of his lowly servant girl,
and from now on all generations will call me blessed.
For the Mighty One is holy,
and he has done great things for me.
He shows mercy from generation to generation
to all who fear him.
His mighty arm has done tremendous things!
He has scattered the proud and haughty ones.
He has brought down princes from their thrones
and exalted the humble.
He has filled the hungry with good things
and sent the rich away with empty hands.
He has helped his servant Israel
and remembered to be merciful.
For he made this promise to our ancestors,
to Abraham and his children forever."  – Luke 1:46-55
The Advent season tends to be my favorite season of the Church calendar.  The pace of life slows as winter sets in and the calendar year winds down.  As an introvert, I appreciate the increased opportunities to be alone with my thoughts, to meditate on the story of Christ's birth, and to use my imagination.
In this Advent season, in particular, I've felt my heart drawn to a young teenager who finds herself in an incredibly vulnerable position.  She's not a stranger to vulnerability and is well acquainted with injustice; after all, she's grown up in the "wrong" neighborhood as part of the "wrong" social class on the "wrong" side of political influence/power, and, let's not forget that she's the "wrong" gender in a patriarchal society.  I'm sure that all of these dynamics weigh on her perspective of life and identity.
Now, let's cue the scene from Luke 1:26-38; that heavy weight is now compounded and complicated by an unexpected pregnancy prior to her wedding day.  If she had no social status before, she certainly has less now (if that's even possible).  The aspect of Mary's story that strikes me is her response to these circumstances; she writes a song.  At this point in her story, her body is changing in ways she's not familiar with, the advancement of her marriage to Joseph is in question, and her future is pretty uncertain, yet her response is to honor God with a profoundly prophetic song, the Magnificat (Luke 1:46-55).
During this Advent season, the Repentance Project has taken the time to consider Mary.  We have considered her perspective through the written reflections of five remarkable authors.  Please take the time to read their reflections by clicking on the links below:
"Advent:  An Introduction" by Dr. Ida Jones
"His Mighty Arm Has Done Tremendous Things!" by Carla Hendricks
"Love:  A Call to Action" by Aaronica Glover
"With Joy" by Kathy R. Bruce
"Peace" by Dr. Michelle Edwards
As the Advent season draws to a close and you prepare your heart for the celebration of Christ's birth, I pray that you would consider Mary and the perspective of this humble teenage mom-to-be as she anticipates the miraculous birth of her first born son.