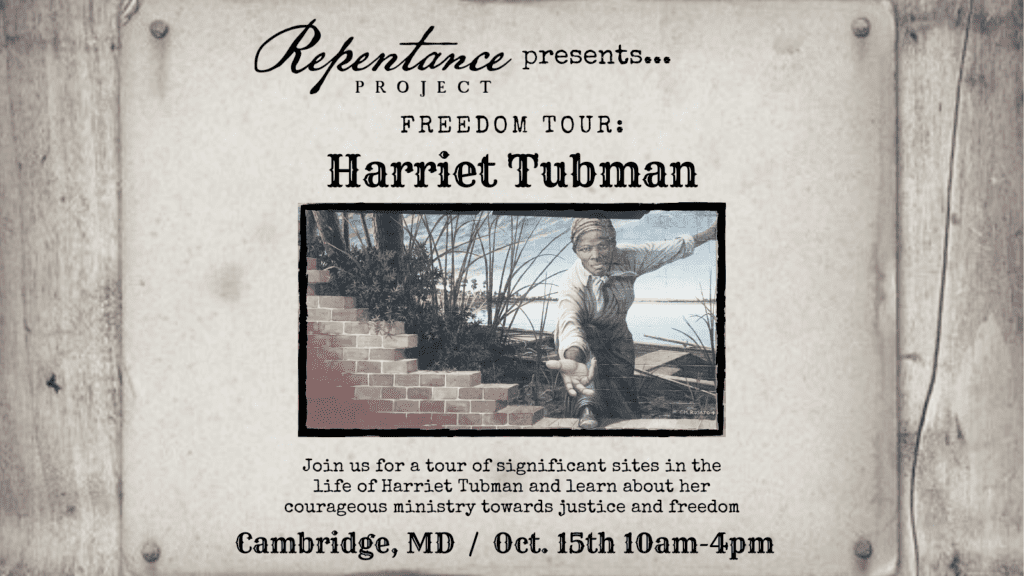 We invite you to join us for a watch party of "Harriet" on Friday night Oct 14, and journey with us to Harriet Tubman sites in Cambridge, MD on Oct 15! Find out why below.
"…I never ran my train off the track and I never lost a passenger." – Harriet Tubman
The Underground Railroad, it was a system with no schedule and a railroad with no tracks.  The accommodations were uncomfortable and the path was uncertain; however, the promise of freedom made this railroad the most sought after ride by the enslaved.  The Underground Railroad was an intricate network of routes and safe houses courageously supported by abolitionists committed to the cause of freedom.  It is believed that over 100,000 enslaved people were carried to freedom on the Underground Railroad, and the most well known conductor on that railroad was Harriet Tubman.
Harriet Tubman was born Araminta "Minty" Ross in Dorchester County, MD in March of 1822.  In that time, Dorchester County was home to the city of Cambridge which was a very active slave trade port, second only to Baltimore in the state Maryland.  Although Tubman was born enslaved, never knowing the experience of freedom, she had an insatiable thirst for freedom which would later come to characterize her very life and make her legendary in her generation.
As a little girl, Tubman was often sent on loan to work in the homes and fields of neighboring farms.  From a young age, she had faith in God as a liberator; however, it was after a severe head injury that she grew to know God as an intimate friend.  Debilitating headaches and frequent seizures were a result of this injury, yet Tubman grew to see these sufferings as a gift for it was in these spaces of suffering that she experienced the most profound presence and leading of God.  She believed very strongly that God used her seizures to guide and direct her to freedom time and time again.
In 1849, Tubman came to a tipping point in her life as an enslaved person where she determined to live out her belief that, "…there was one of two things I had a right to, liberty or death; if I could not have one, I would have the other."  At this point, she laid down her life to embark on the long and dangerous journey to freedom.  Not only was she successful in arriving in Philadelphia safely, but she determined that she should return to Maryland to help others achieve liberty; to guide friends and family to freedom.
For over a decade, Tubman followed God's lead back to the Eastern Shore of Maryland to help other enslaved people make their way to freedom.  Because of her deep commitment to this calling, she was able to lead over 70 people to freedom.  This feat earned her the nickname "Moses to her people;"  Tubman had become a symbol of God's liberation to oppressed people.
At the announcement of the Emancipation Proclamation, a number of abolitionists began to breathe easier considering the hard work of ending slavery accomplished; however, Tubman simply shifted her focus.  She joined the efforts of the Union army by offering her expertise and skill to the cause of justice for all.  In her years of service to the Union forces, she served as a nurse and a spy and even became the first woman to lead an armed assault during the Civil War.
At the close of the Civil War, Tubman did not rest.  She turned her energy and calling towards the suffrage movement becoming an instrumental supporter and advocate.  Harriet Tubman lived a remarkable and God-honoring life which is worthy of a deeper look.  Please join Coracle and the Repentance Project in Cambridge, MD as we tour significant historical sites in the life and courageous ministry of Harriet Tubman.  Through a guided tour and visits to two museums, participants will have an opportunity to explore the remarkable story that was her life.