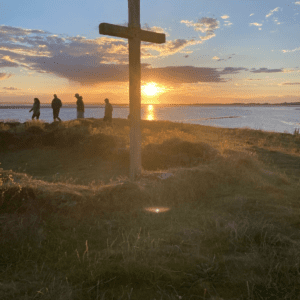 Pilgrimage is a centuries-old gift that Coracle embraces and fosters.  One of the gifts of ministering with Coracle is the freedom I have to partner with others in pursuing God in the company of others.  In 2019 I experienced the richness of the Virginia Slavery pilgrimage which was a pilgrimage with a mission, to grow in my awareness of and connection to the painful history that has informed the experiences of my Black brothers and sisters in the United States.  In 2018 and now again this past June, I experienced the beauty and richness of walking in the footsteps of Celtic saints in Scotland and England.  What joy to walk with fellow pilgrims basking in the luxurious countryside of the United Kingdom, fully present, free of the normal constraints of life to be physically and emotionally present to the Holy Spirit, creation, and my companions.  Over nine days of walking, conversing, and dining together, rich bonds were formed as I experienced God intimately drawing close and affirming, encouraging, and ministering to each of us.
An added gift this year was being able to co-facilitate the pilgrimage with a dear friend, Kyle Wisdom, and to experience he and his wife Koko sharing what has become a thin place for me.  Reflecting on the journey Kyle shares, "It was an amazing experience to recently complete a pilgrimage focused on Celtic spirituality with my wife, close friends, and new friends. It was a rich feast of new vistas in Scotland and Northumbria and an abundance of time for connecting with God and others. It was a blessing to be able to set aside that length of time for walking, reflecting, and being in a pilgrim community.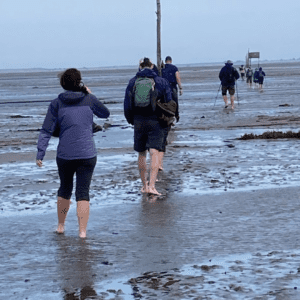 I experienced something extraordinary journeying at the slow pace of walking…right foot, left foot at two miles an hour. I had the luxury of unhurried time and the provision of a remarkable group of people. In this context I had profound conversations related to my family of origin, my experiences with God, and vocation that really helped me. Walking the final two miles barefoot to Holy Island in silence, as well as the time of reflection while on Lindisfarne, provided space for me to hear from God in ways I have not for a long time.
That experience was a gift, not something owed for my efforts. Yet, I believe I received this gift because of the intentionality, attention, and space which came from this pilgrim adventure. So many good things happen in liminal space; that space where one lives outside normal rhythms. I'm hooked and cannot wait to go back."
Koko's adds, "I thank God for the incredible gift of St. Cuthbert's pilgrimage. The pilgrimage allowed me to disconnect from the busyness of my life as a working Mom. The long opportunities for solitude, reflection and sharing with other pilgrims gave me space to renew my perspective on life and ministry. The time of reflection, coupled with the beauty of the walk, inspired me to think differently about important questions in my life. The spiritual community was an unexpected bonus for me too– I met new friends and deepened relationships with old friends too. This pilgrimage offered an opportunity for adventure, beauty, refreshment and friendship. I thank God for Coracle's investment in this important ministry!"