"No matter how urban our life, our bodies live by farming; we come from the earth and return to it, and so we live in agriculture as we live in flesh."
One of the most important questions a professor asked me in seminary had nothing and everything do with Christian faith: "Which soils do you come from?"  This question caught me thoroughly off guard.  Though this was an "ice-breaker" question of sorts, I knew I wasn't merely being asked a thinly veiled version of "Where are you from?"  This was a class at the seminary farm (the "Farminary" at PTS) and I was being asked to reflect on how my life in particular has been sustained by and connected with the rest of Creation.  If the question was "which foods did you grow up eating?", answering would have been easy.  But "which soils — which plots of earth nourished you…?"
What came to mind, and what seemed like the most place-specific answer I could've given was, "the glossy concrete floors of the Costco in suburban Oregon."  But that seemed almost too irreverent to say.  I copped out and talked about where I was from (Egypt, Armenia, Oregon) and the food my family ate (mostly Egyptian).  However, for the first time in my life, and for the rest of seminary, I started reflecting on that question: "Which soils do you come from?"  I wonder, dear reader, how that question strikes your ears today.
For some of us, like Tara, the answer readily comes to mind: "It's complicated."
While Tara's grandparents were farmers, her parents shied away from working the ground, having tired of the early mornings and long, hard days the family farm demanded of them.  It wasn't until Tara's grandma moved in when she was 10 years old that Tara became acquainted with the agrarian world.  Tara's grandma insisted she have a garden, and Tara's dad knew better than to protest.  It was now Tara's turn to experience the toilsome early mornings, especially when it was time to harvest beans, and she could see why her grandparents so enjoyed the convenience of TV dinners!
After her grandma passed, Tara took a hiatus from working the ground.  But, little by little, she also began to realize how disconnected she felt from the land and food that nourished her and her family.  When she and Bill moved from DC out to Corhaven, she was ready to start cultivating and caring for the land again, and she hasn't looked back!  She and the family love getting to nurture their little plot of God's green earth, helping it to bear good fruit and be a place where others can be nurtured, in body and spirit.
Friends, no matter what our food- and soil-stories hold, we are convinced that caring for Creation together uniquely forms us into people who can love God and our neighbor with our entire being – with our hearts, souls, minds, and embodied strength.
Slowing down to enjoy the beauty of Creation that God called "very good" centers us in a unique way.
The rhythm of the seasons reminds us that God is working in us – even when we don't feel like we're growing! – and shows us what can grow up from the smallest of seeds.
Gratitude swells in us as we see, hear, touch, and taste all the gifts our very lives depend on.
The sheer diversity of these gifts, and the way they enhance one another, helps us experience diversity itself as a gift.
And responsibility for the flourishing of other creatures becomes more second nature as our affection grows for Creation – for the gift we have been entrusted to steward.
In both a mysterious and intuitive way, being grounded in caring for Creation roots and grounds us in Love.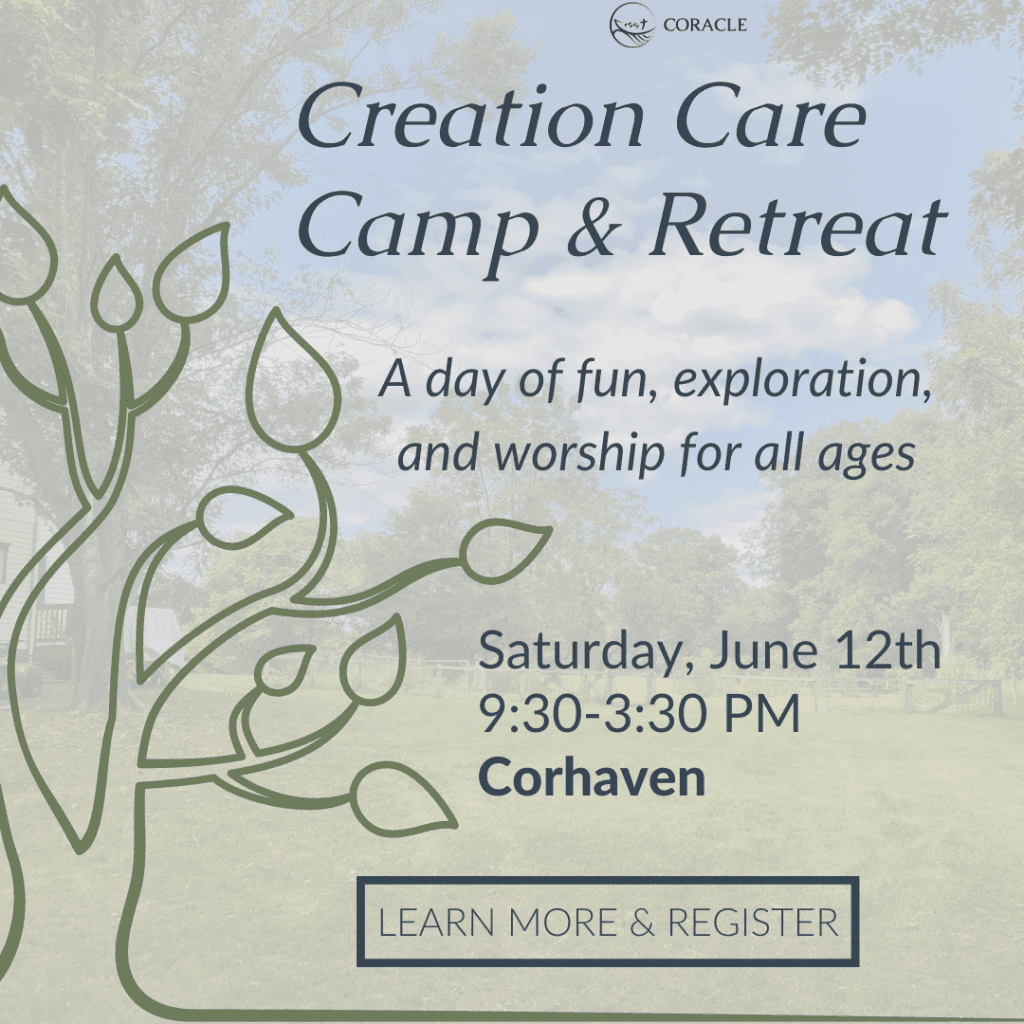 That's why we are hosting a "Creation Care Camp & Retreat" on June 12, on the beautiful Corhaven grounds.  Kids will enjoy hands-on Creation care activities (led by Coracle staff) while adults enjoy a retreat centered around enjoying God in creation.  People of all ages, with or without kids, are welcome, because Creation Care is for everyone! We hope you'll join us for this special day.
AND, if you're interested in hosting your own "Creation Care Camp" for your family, church, or other community, we would love to offer you a free template to help you do that!  Simply click the button below, and we'll send you the template as soon as it is ready.
Receive Your Free "Creation Camp" Template