In this Lenten season, we look soberly at our past and present in preparation for Resurrection Sunday, for the reason we have true hope in the midst of this beautiful and broken world.  Through this year's "Toward the Beloved Community Initiative," the Coracle community is looking soberly and earnestly at the historical and present brokenness in our country around racial injustice.  As part of this focus, and as a way to continue the journey for anyone who participated in "An American Lent," we are offering this course by trusted friends at Arrabon as a resource to help provide a foundational, biblical understanding from which to enter difficult, unfamiliar, or tension-laden conversations about race, class, and culture in our everyday lives.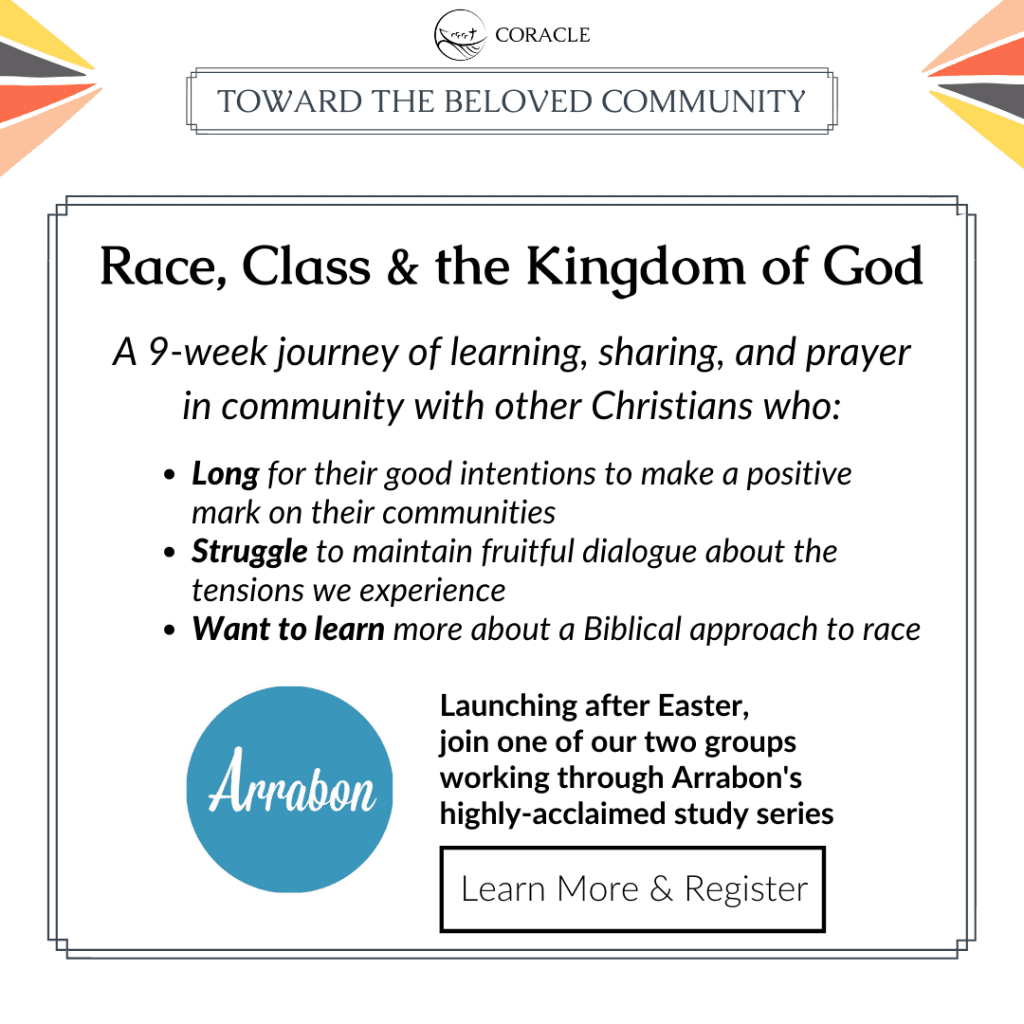 It is for those who find it difficult to have a fruitful dialogue around these topics for one reason or another, and who would like to explore more biblical knowledge and understanding.  If you are a Christian who feels discomfort – whatever your racial, ethnic, or faith background – even mentioning any of these topics, this course is for you.  This is a chance for us to set out further into these deep waters together with fellow Christians who likely share the same questions.
During the weekly 60-90 minute group meeting time we will watch an accessible teaching video, break into small groups, and also have time for discussion and prayer all together.  The course will span 9 weeks and was developed by Arrabon, our partners in reconciliation and healing.  
Topics we will cover include 
"A People, Place, and Just Society"

"Becoming a Reconciling Community"

"The Shalom Continuum"

"Understanding Homogeneity"

"Unity in Diversity"

"Models of Cross-Cultural Engagement"

"Reconciliation" and 

"Shalom"
Sometimes multiple weeks will be spent on one particularly rich topic. 
These topics are discussed not merely as helpful concepts.  They are presented as timely clarion calls to practical growth and change.  Whether we look at the racial strife of the last 500 years or our own recent memory, the persisting segregation of cities and neighborhoods along lines of race or the fact that 11am on Sunday is still the most segregated hour in American life – perhaps no matter where we look, it's clear that we are far from the Beloved Community for which Martin Luther King, Jr fought and died.  Rather than be resigned to the state of our country and/or the state of our hearts, rather than letting despair, fear, guilt, or apathy carry our days and years, we can take small steps toward healing.  These 9 weeks will not produce a sea change, but they may just initiate a new undercurrent that leads a few of us closer to hope and the next faithful step.  Join us as we take a step together, as a community, toward a wider vision of belovedness.