As we emerge out from underneath 2020, we imagine you remember one of the most powerful experiences over the summer–– The Juneteenth Lament for racial injustice broadcast live from the Corhaven Graveyard.  We want to tell you about some exciting developments for the Graveyard and invite you to be a part of them. The Corhaven Graveyard– the final resting place of 25 African Americans who lived and died enslaved– is truly a sacred space of important legacy and history in Shenandoah County, VA.  Both physically and virtually, hundreds and hundreds of people have been deeply touched by their experience here.  Even in the midst of the pandemic, 160 were able to experience the graveyard personally in 2020, along with 20 different groups of people, and well over 500 people who participated in the virtual lament in June.
One woman who visited reflected, "
This land both broke and healed my heart.
"
We've known for some time that for more people to experience the challenge and healing at the graveyard, we need a covered outdoor space, a sort of pavilion, so that guests can be protected from the elements and our programs would not be dependent on the weather.  We've also known for some time that it would be good to have a dedicated quiet place near the graveyard for reflection and prayer. Here's the great news… we're ready to do it!  And we'd like to invite you to be a part of this exciting project. 
We are ready to move forward on the Corhaven Graveyard Pavilion and Hush Harbor Chapel, and we hope to complete both in time for another online and in-person event on June 19, 2021.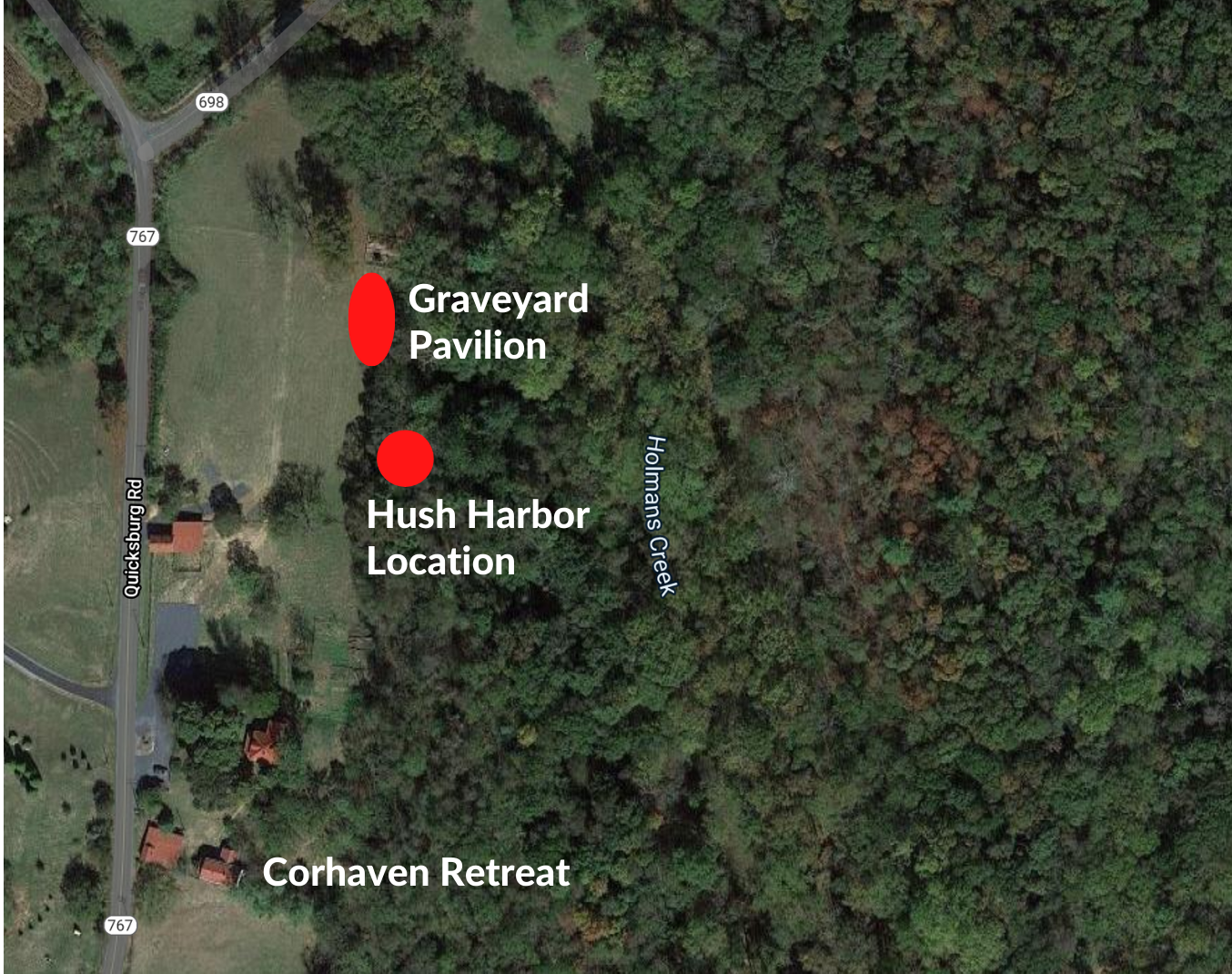 The Peace Pavilion
This covered outdoor space will be just next to the graveyard, with seating for up to 75 people.  It is being designed to incorporate different aspects of both the horror and the hope of America's racial story, while offering the flexibility to gather groups large and small for transforming conversations and education.  Utilizing as much locally sourced natural material as possible, the plan at this point is that the main shape of the pavilion will gently resemble the contours of a boat, which, along with water, factors heavily in both the tragedy and the liberation of enslaved peoples.  It will include a large stone fireplace for warmth, storage facilities for tools and such for community work days, and draw water from Holman's Creek for irrigation for the memorial garden.
Approximate Cost: $65,000
The Hush Harbor Chapel
In the days of slavery, enslaved African Americans were not allowed to congregate without a White person present for supervision, nor were they allowed to meet with slaves from other plantations, under threat of punishment or being sold off and separated from family.  Still, driven by a deep spirituality and need to be together for prayer and encouragement, they would secretly gather in hidden places in the woods in the dark of night.  It was from these places, called "hush harbors," that many of the contemporary expressions of African American worship developed.  The "chapel" of Corhaven Graveyard will be a hush harbor, not unlike what those enslaved on this land may have experienced, a fitting tribute to them and the faith which sustained them.  And we know exactly where it will go, in a place where nature sends a powerful message.
Approximate Cost: $15,000
When I first saw this spot in the woods of Corhaven over 10 years ago, I knew it would be something special one day, I just didn't know what or when.  In a hidden little ravine just 30 yards south of the graveyard, there are several large boulders, and over time one of them was split in half by a cedar tree, a tree that started as a mere seed, and simply and steadily grew until it broke through rock. 
This speaks powerfully to overcoming the ongoing racial wounds of our American history and our present.  How do we break and overcome something as heavy and strong as racism?  By planting seeds and nurturing their growth over time.  The seemingly impossible–a seed breaking a boulder–is possible, just as overcoming America's racial divides and injustices is possible, for all of us to live together as that "Beloved Community" that Martin Luther King Jr. pointed us toward.  This tree and split stone will be the centerpiece of the hush harbor.
The total cost of the Corhaven Graveyard Pavilion and Hush Harbor is projected to be
$80,000

. 
Would you help us meet that goal and make this powerful vision a reality by offering your financial support?  DONATE HERE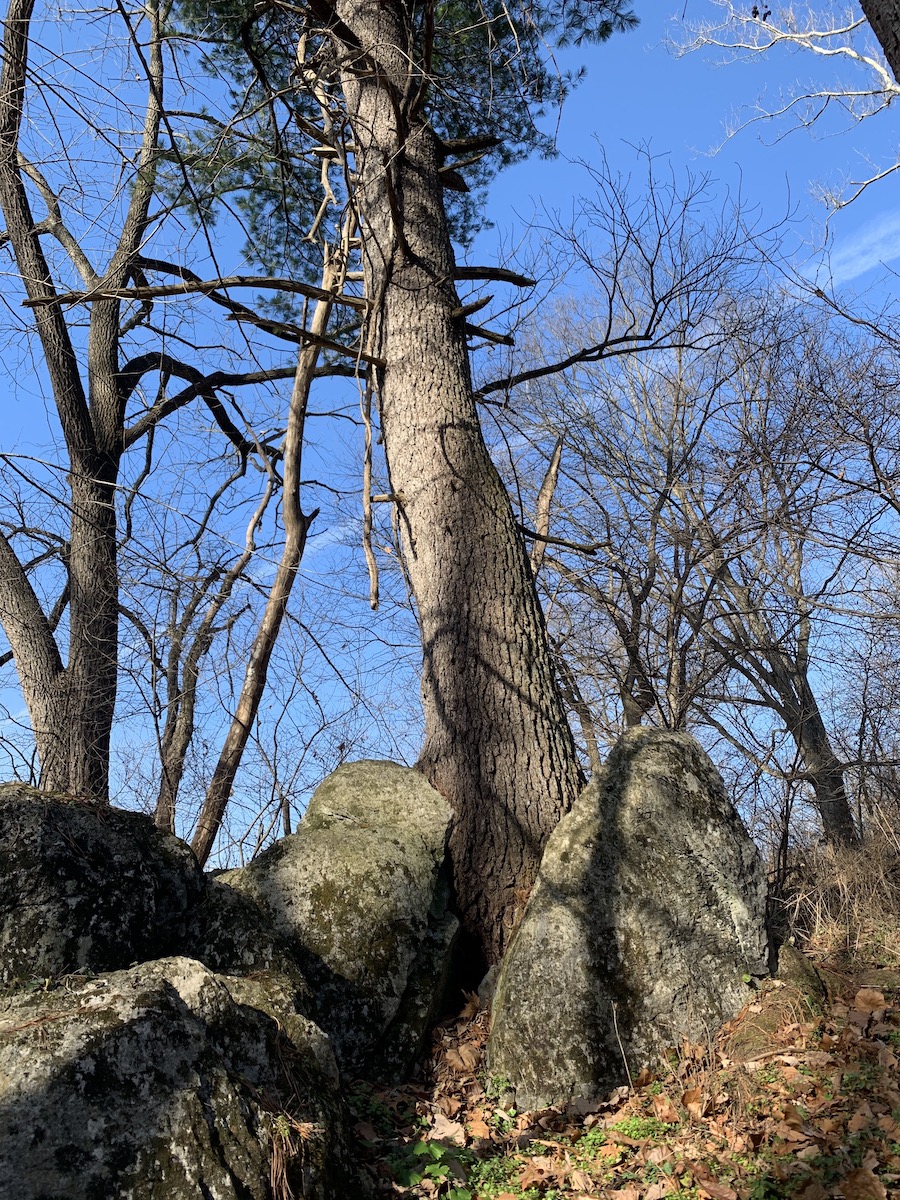 The Graveyard is already such a powerful place for so many, and we are convinced that this will make it all the more powerful for even more.  Also, we're very aware that others (individuals, foundations, and community groups) might want the privilege of participating in such a special project.  If you know someone or an organization that would be moved by this, would you pass this opportunity along to them?  Thank you.  We are hoping to have all these funds raised by February 28, 2021 so that building may commence soon thereafter.
The Corhaven Graveyard is an initiative of Coracle, a registered 501(c3) organization committed to "Spiritual Formation for Kingdom Action." If you would like to make a donation to this capital campaign, you can do one of three things:

1) You can donate online HERE with a credit card or e-check.

2) If you would prefer to send a check, you can make it out to "Coracle," write "Corhaven Graveyard" in the memo line, and mail it to 2883 Quicksburg Rd. Quicksburg, VA 22847.

3) If you would like to donate using stocks or securities, please email our Director of Development, Drew Masterson.
We would also ask you to consider joining us on Saturday, February 20 for a Community Work Day to clear the area for the hush harbor, and that you would hold Saturday, June 19th on your calendar for a very special commemoration (in-person and online) which will include dedicating these new spaces.  There will be news about both of these opportunities in our e-newsletter.
If you have any questions, please don't hesitate to reach out to me.  And thank you for being willing to consider joining in such a meaningful task!