The challenge is to wait well.  Over the past nine months, we have grown familiar with (and probably quite tired of) longing, hoping, and anticipating a promised restoration of life, peace, and community that remains on the unreachable horizon.  As we relinquish dearly-held plans, family traditions, and the like, we are painfully aware this is not the way things are supposed to be.  It's been hard.
As much as any year in recent memory, we need the story of Advent this year.  We need ways to situate our shared grief, loss, and longing in the expansive scope of the Christian story.  We need to be reminded that we worship a Triune God who is always drawing near to us in our griefs, losses, and longings.  Advent can help us do that.  During Advent, we remember the courageous patience of a battered people, subject to powers greater than their own, who despite it all looked ahead in hope for a promised salvation across a seemingly unreachable horizon.
The vindication of their hope can change everything for us– even here, even now– if we let it.  This Advent, we are offering a few ways to help us all wait well for the vindication of our own hopes in this season.  We very much hope you will consider joining us!
On Tuesday Mornings, from 8:30-9:00 AM (ET), we will continue making "Space for God" with reflections and practices built from themes of the Advent Season.
Bill will kick us off on Dec 1st with a time of "Waiting for God."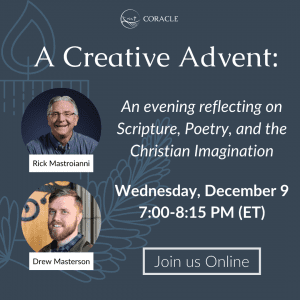 On Wednesday, Dec 9th from 7:00-8:15 PM (ET), our Coracle Community will be gathering for "A Creative Advent: Scripture, Poetry & Christian Imagination". 
I am very excited to be hosting this time with one of our Spiritual Directors, Rick Mastroianni, whose poem "Joseph Speaks" will be one of the touchstones of our time together!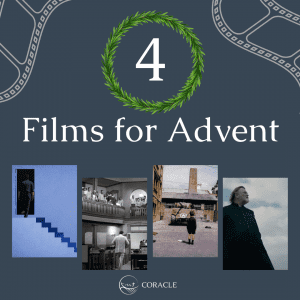 While we won't be gathering for a Movie Club in December, every week in December on the Coracle Journal, I will be writing a short (spoiler-free) reflection on "4 Films for Advent."  I will also include some questions to guide your viewing and discussion if you ever choose to watch any of my picks!
Stay tuned for those 🙂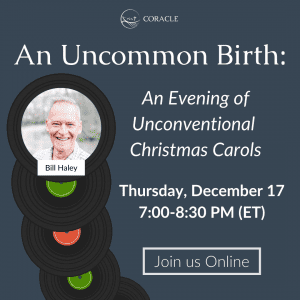 Finally, on Thursday, Dec 17th from 7:00-8:30 PM (ET), Bill will lead us through "An Uncommon Birth: An Evening of Unconventional Christmas Carols".  Sampling broadly from centuries of seasonal music, we hope this will be a festive way to enter into the Christmas season from a different perspective!