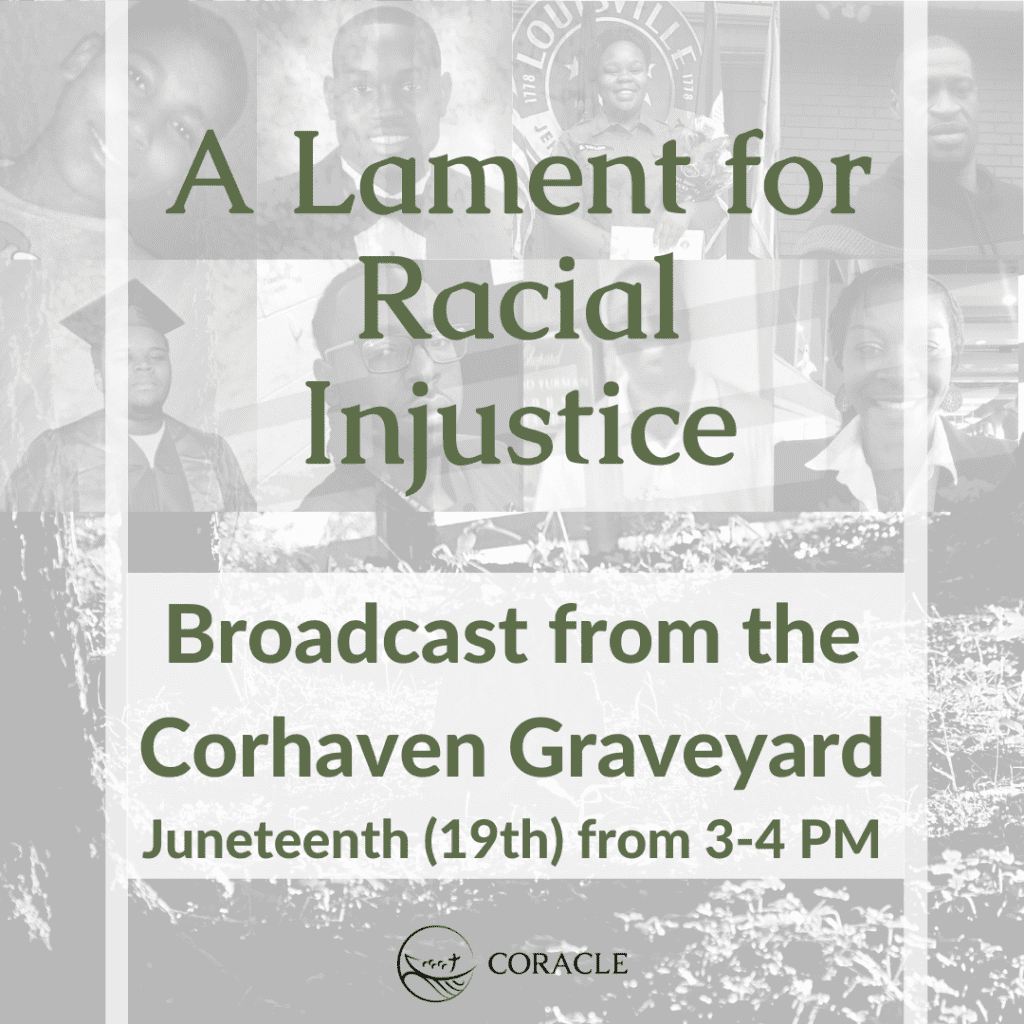 I'm writing to invite you to a virtually-offered "Lament for Racial Injustice" from the Corhaven Graveyard on Juneteenth (June 19), considered the Independence Day for African Americans since 1865.  We will have brief reflections on the current state of race relationships in America and the history of our country, as well as time to lament and offer prayers, all while broadcasting views of the Corhaven Graveyard with a few people physically there representing those who would want to be there.  If your organization would like to partner with us on this, let us know.  Weeping.
This Thursday starting at 5:30 PM we'll offer a virtual space for conversation on "What is being tapped into that has led to what is going on this week in America?" and "What do you think (and do) about that?"  These are Questions that Matter, a new way for Coracle to create space for important conversations like we've been having for the last 10 weeks.  Talking.
Sometimes you gotta weep, and sometimes you gotta talk.  This is one of those times.
George Floyd's death is just a new entry in a long list of pain, a 400-years-long list.  It is right to feel angry, it is right to feel sad, it is right to grieve, it is right to lament, it is right to speak up, it is right to pray, it is right to work for a different future, it is right to work for racial healing.
I'm truly sad about the death of George Floyd and all the men and women he painfully represents, some very recently.  I'm truly sad about the violence that has accompanied some of the recent protesting, even if it's very understandable.  Still, I'm more grateful that so many voices are calling for racial justice in America across the country and even around the world.  The volume needs to be turned up on the need to reckon with our nation's racial history and it's current manifestations in order to find a better future together.  Things have needed to change for 400 years, and they still need to change.  Would that these past days might turn into a massive movement of non-violent resistance calling for repair and racial healing.
A couple of years ago I offered this short reflection on "Race in America: A Christian Response".  There you'll see in part why I'm passionate about people (and Christians particularly) understanding the simple and all-too-deep history of racial injustice in America, and understanding how it continues to show itself today.  Some five years ago a group of like-hearted friends and I started the Repentance Project.  Our signature offering (to this point) is a fifty-day devotional journey connecting the dots between our racial past and our racial present, along with prayers and scriptures and many resources.  There's the Lent version, and there's the Lament version.  We understand that if our nation is going to change, our eyes have to be opened and our hearts have to be formed, and we hope this resource can help form us and many.   One of the most important things a person can do even now, besides adding your voice to the choir calling for change, is to learn about the history that is the context and reason for what we're seeing in the present.
I hope you'll join us 'in the Graveyard' on Juneteenth, and I hope you'll join us for the conversation this Thursday.
Sometimes you gotta weep, and sometimes you gotta talk.