Here is a post by a friend of ours about a reflective prayer practice called the Examen Prayer.  It is a powerful way to recognize God in our everyday activities.  This post was originally posted on her personal blog.
This Summer I Prayed the Examen
by Abby Deatherage
This summer, by happenstance and friends-of-friends and God's providence, I began working for the Jesuits, an order of priests in the Catholic church. I'm not Catholic–I'm not even Jesuit-educated, or "Jes-Ed," as I jokingly called it this summer–but I saw that the Jesuits were an order of the church that focused intensely on social justice and education, two things close to my heart. And it didn't hurt that Pope Francis, whom I have only grown in admiration for as the summer has gone on, is a Jesuit, too! So I dove into a new network and world of people, priests and laypeople alike, unsure what I would find.
When I arrived at the office, knowing almost nothing about the order, I quickly learned one of the things they are most known for: Ignatian spirituality, named for their founder, St. Ignatius of Loyola. St. Ignatius wrote a series of prayers and devotions called the Spiritual Exercises, based on the belief that God exists in all things, that he can be found everywhere we look. It's a manual and a ritual of prayer that can take up to 30 days to complete. One of the Spiritual Exercises that's often used alone is called The Examen. It's a prayer that involves asking God to open your eyes to where He was moving over the past day, reliving each moment and illuminating them with His presence.
After a semester in Europe when everything was new and exciting, when visiting a new place was a weekend activity and exploration was automatic, I knew this summer would be an adjustment. I went from international flights and months of new experiences to all-too-familiar suburban life, the crowded D.C. Metro, my neighborhood pool, and more chain Starbucks than I can count. As I slipped back into my familiar life and routine, I struggled to find God's presence in the way I had before, when every day brought something fresh and new. And I realized I can all too quickly stop looking for Him when I believe the lie that because my routine is the same, each day will be the same.
So, out of a growing need to notice God's presence, I decided to start praying the Examen. Suddenly, it was as though the world bloomed with hints and glimpses of God, in everything from a morning Metro ride to a trip to the pool with the kids I nannied. In fact, I think it has been the nature of this summer to find God in the smallest moment possible, to see a glimmer of His joy and his love in daily activities as simple as walking the dog or a quiet morning, in the moment my sister shouts "Abby!" and runs to greet me when I get home, in the smiles of strangers on the Metro.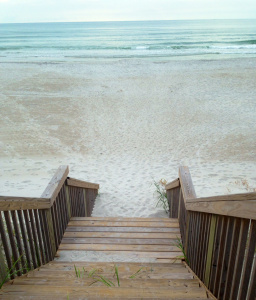 What's more, I found that reflecting over the day before I fell asleep brought a sense of security, as I reminded myself that God was with me throughout my day, and would be as I slept. It stemmed the anxiety I can sometimes feel falling asleep as my thoughts swirl with plans for the future, be they the next day or a year from now. It quieted the voice that replays, over and over, moments that make me cringe at myself, moments I could have done better, moments I was not enough. It lulled me to sleep in the confidence that the presence of God was active and at work in the smallest things in my life, if I only have eyes to see.
More than anything, I think the Examen has opened up an awareness of seasons of life. There are seasons when finding God's presence is as easy as looking at Notre Dame or watching a warm sunset melt and spread over the Edinburgh castle; when God seems to drape giant banners announcing himself over every airplane flight and new horizon. But there are also seasons when God whispers his presence in a moment of stillness, in a perfectly timed encouragement from a friend, in the laughter of family. And though those seasons have different challenges, my God is the same through them all–it only took praying the Examen to see it.