It's safe to say that for me personally, a critical part of my spiritual formation earlier in life came through spending time alone with God, in nothing but nature, sleeping in a tent, with no other company except God and the wonders of creation and a constant campfire. Whether in the woods and waters of Minnesota, the mountains of New Hampshire, or the forests of Virginia, when I set apart time for God in his wilder world, he showed up to me, every time. I cannot remember a time when God didn't meet me very meaningfully, if not surprisingly powerfully, when I went camping with God. You can do that at Corhaven.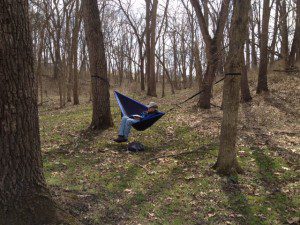 And, it's safe to say that already some of my most sweet, powerful, and relationally shaping moments with my kids is when I camp out with them, as individuals or even as a family. Father/Son camping, Father/Daughter camping, or Mother/Son or Daughter camping…it doesn't matter, these will be some of the sweetest memories of our parenting, and creates surprising space for conversation and connection with kids as young as three years old! There's nothing quite like nature's noises in the dark to make your child snuggle up close! And nothing quite like watching them simply run around in the woods and water, with new discoveries for them about every ten minutes. And you can do this at Corhaven.
And, one of the most bonding experiences I've had with friends who became better friends or families we wanted to enjoy life with more and deepen in relationship with has been to experience life in the woods together. And you can do this at Corhaven.
We've got at least three camping areas at Corhaven, in different sizes with different views, cleared out of the untamed forest, with all these sorts of experiences in mind for others. There's a small site specifically with parent and child in mind (nearer to our house), or solitude for an individual. There's a large site that already has held as many as 40 people in tents, and could handle even more. And there's another with the song of a small waterfall for music.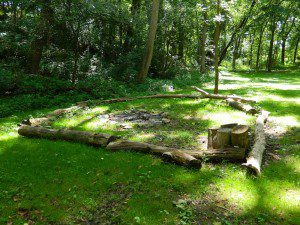 An important difference in camping at Corhaven though is that it comes with proximity to a bathroom and shower, if desired the possibility of strong hot coffee in the morning or wine at night, and Eucharist should that be desired as part of your camping retreat, even some guidance for your time if that would be helpful. You can bring your own, or we have all the camping stuff should you need it (at least for parent/child or solitude camping) and can help set that up. And you'll be in a place that already feels saturated by many prayers.
To make a reservation, go here. We love having people 'hidden with God' in Corhaven's forest, and hope that will include you!
PS: Here's a few lines written in the early 1990s, from one of my own camping retreats….
          Father, I'm off on my own in the near winter forest            finding You alone so finding what's best;           The winds like the Spirit are rushing all around           how wonderful to hear them in this moment's sweeping sound.             Thank You, Lord, for the provisions of the earth           in my hand Your Word gives true meaning for its birth;           You've given this gift to find in it Your glory           as this man on a cliff finds comfort in Your story.