While 2020 was a year of expansion and exploration for Coracle in so many ways, most of them involved computer screens and new features on Zoom instead of hiking boots and maps and forays into foreign lands.  In the past, we have encountered Israel/Palestine, walked on El Camino de Santiago de Compostela, visited the growing church in Nepal, trekked in the Himalayas, traversed St. Cuthbert's Way, city dumps in Guatemala, the border fence in El Paso, and explored the history of slavery in Virginia.  We aim for places full of history, stunning beauty, and the palpable sense of the presence of God.  We also go to places of stunning brokenness to find beauty and God there too. 
Coracle offers Pilgrimages and missions because an actual, physical journey as a part of the larger journey of living can often be a way to shift perspective, bring about needed change, renew old things, or find something that was lost.  In his book The Way of the Lord, N.T. Wright reflects on a physical journey to the Holy Land as a metaphor for our walk with Christ.  "Each of us is bidden and beckoned to come on pilgrimage to find the living God," he says.  He has invited us.  He desires to be with us at home and abroad, all the time, everywhere.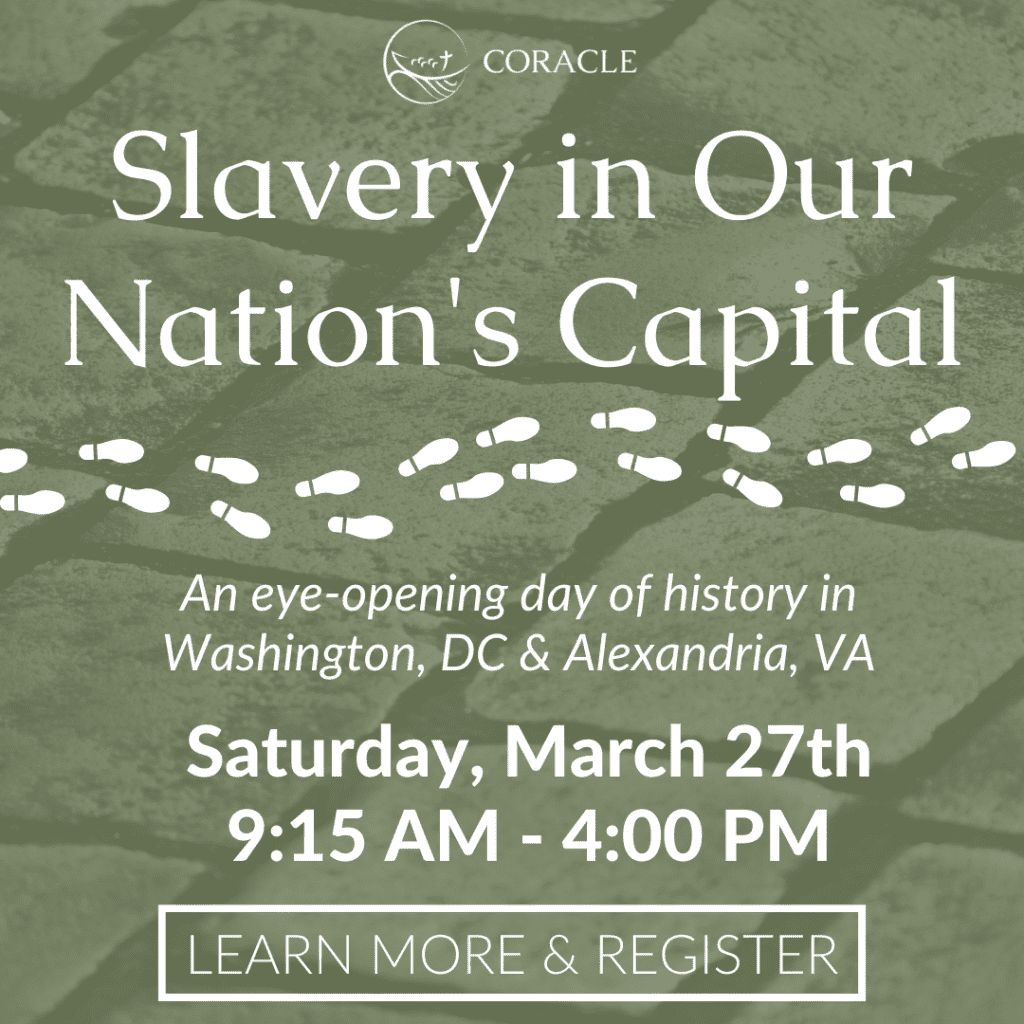 Coracle started 2020 with grand plans for pilgrimage, and then… you know what happened.  Now, we're dipping our toes back into the waters of pilgrimage with "Slavery in Our Nation's Capital," a one-day localized journey in the District of Columbia and Old Town Alexandria on Saturday, March 27th.  For those of you who engage with Coracle from outside the DC area, you are welcome to join us for this day if you feel safe making the trek!  And if you're a local DC-metro dweller, we hope you will join us to explore a side of our home you might never have encountered!
We'll kick off our day at Union Station in Washington DC, and be led on a walking tour by Kate Denson of DC Justice Walks.  Together, we'll experience a different side to the National Mall as a historic protest site, the site of historic slave markets, and the home to the Japanese American Internment Memorial. Join us for a time of history, remembrance, and appreciation for a more hidden side of our Nation's capital.
Then we'll spend the afternoon exploring Black History and lesser-known narratives in Old Town Alexandria.  We will visit sites connected to the early Alexandria slave trade, such as the former site of Franklin & Armfield Slave Trading Offices and the former Bruin Slave Jail site, as well as sites that connect to early African American's spirituality such as Shiloh Baptist Church and the Alexandria National Cemetery.  Very few things make these forgotten and hidden narratives come alive like standing on the ground where the stories happened.
We are always on a journey with God together, but when we leave what we know and take a journey with others to new places (or commit to seeing familiar places through different eyes), amazing things happen.  I hope you will stay with us on the journey of spiritual formation for Kingdom action, both online and also on March 27th.