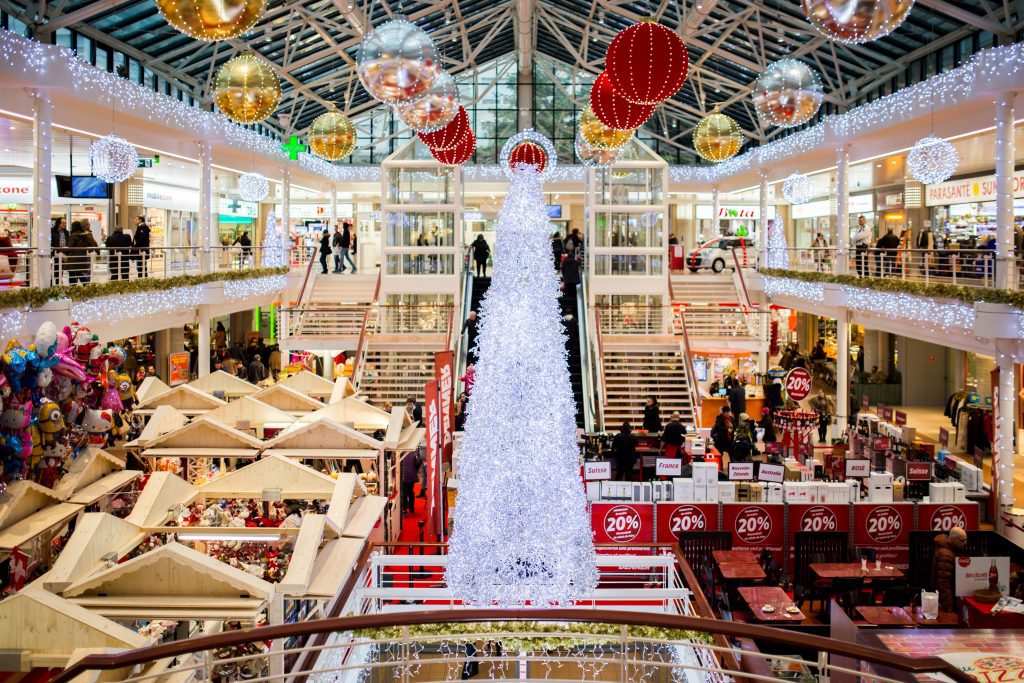 It's not a question of "If?" but rather "When?" and "Where?"  Is it going to be in Safeway, or the Starbucks, or while wandering the hall of some shopping mall, past pilgrims lugging their gifts of Godiva, fragrances, and merino wool?  It'll probably happen after the perennially awful song plays, "Grandma Got Run Over By a Reindeer," or right before "I Saw Mommy Kissing Santa Claus."  But somewhere, most assuredly, it will happen.
I'll be somewhere, and the Christmas Carol "God Rest Ye Merry Gentlemen" will start, and I will stop, and listen.  I'll listen for the words of the first verse, and look around to see if anyone else is listening.
God rest ye merry, gentlemen
Let nothing you dismay
Remember, Christ, our Saviour
Was born on Christmas day
To save us all from Satan's power
When we were gone astray
It's that last line that gets me every time.  Jesus came to, and he did, save us from Satan!  We were wandering away like sheep, to danger and certain death, and Jesus came to break Satan's power over us and all things!  I think, "This is utterly amazing!", what Jesus did, and I wonder, "Is anybody else hearing this?  Does anybody care?  Is anyone here aware of this bald-faced affirmation of the reality of Satan and evil and the conquering power of the risen Christ, the incarnate God himself, who actually came?" 
Maybe, probably not.  I think my version of going crazy in this setting would be to stand up on the nearest countertop and shout, "Listen up, people!"
There's little I love more in the Advent and Christmas seasons than the songs and carols and hymns.  Inasmuch as hearing their proclamations in public amazes me, their theology grounds me, and their poetic insights never fail to inspire me once again to the awe that comes with contemplating the Incarnation.   
Here are four things I love when I look at and listen to the full buffet of Advent and Christmas carols, as well as one thing usually missing from the table.
I love the carols' naked theology.
Look at "O Come, All Ye Faithful."  It sings of Jesus,
Word of the Father, now in flesh appearing.'

True God of true God, Light from Light Eternal,
Lo, he shuns not the Virgin's womb;
Son of the Father, begotten, not created;

O come lest us adore him….
These lines are ripped almost directly from the Nicene Creed!    "Hark! the Herald Angels Sing" is a wonderful tune of course, with even better theology.
Veiled in flesh the Godhead see
Hail the incarnate Deity
Pleased as man with man to dwell
Jesus, our Emmanuel
Incarnate Deity.  That's our breathtaking gospel claim, that Jesus is exactly that and all of that and nothing less than that.  God with skin.
Then there is some of the most wonderful Eucharistic theology embedded in that ancient song "Let All Mortal Flesh Keep Silence".
King of kings, yet born of Mary,
As of old on earth He stood,
Lord of lords, in human vesture,
In the body and the blood;
He will give to all the faithful
His own self for heavenly food.
Advent means Christmas, and Christmas means the altar.  Christmas means communion.  Christmas enables "God with us," still.
I love the carols' recognition of our broken world (and race) in need of redemption.
The best ones have this in it, for the best songs are always about the way things can be, but also are.  "Joy to the World," for example:
No more let sins and sorrows grow,
Nor thorns infest the ground;
He comes to make His blessings flow
Far as the curse is found,
Far as the curse is found,
Far as, far as, the curse is found.
In "It Came Upon a Midnight Clear" we have the angels singing about our world's "sad and lonely plains," singing to those who work and whose work is hard.
Ye beneath life's crushing load,
Whose forms are bending low,
Who toil along the climbing way
With painful steps and slow;
Look now, for glad and golden hours
Come swiftly on the wing;
Oh rest beside the weary road
And hear the angels sing.
Jesus brings hope to those whose work is crushing.  He brings hope to all of us who face that most evident evidence of brokenness brought on by the Fall– death.  This from another ancient Advent carol for those who long and wait, "O Come O Come Emmanuel."
O come, Thou Rod of Jesse, free
Thine own from Satan's tyranny;
From depths of hell Thy people save,
And give them victory over the grave.
I love it when the carols' reference the cross.
For indeed Advent always points to Christmas but always goes the distance right to Good Friday through to Easter.  Some of the carols are so far beyond 'sweet baby Jesus, meed and mild, lying in a manger.'  See from "What Child Is This?"
Nails, spear shall pierce Him through,
The cross be borne for me, for you.
Hail, hail the Word made flesh,
The Babe, the Son of Mary.
The same from "The First Noel."
Then let us all with one accord
Sing praises to our heavenly Lord;
That hath made heaven and earth of nought,
And with his blood mankind hath bought.
I love the carols' sheer transcendence.
It is the song "O Holy Night" that never fails to do this.  It was not written by a priest or pastor or theologian or monk, but rather based on a poem by a wine-merchant in the middle of the 19th century, and it is the mystic's Christmas hymn.  It's the other carol, piped in the coffee shop or supermarket or strip mall, that makes me want to stand up, and shout, "People, do you hear this?!  This song is saying it all!"
O Holy Night! The stars are brightly shining,
It is the night of the dear Savior's birth.
Long lay the world in sin and error pining.
Till He appeared and the Spirit felt its worth.
A thrill of hope the weary world rejoices,
For yonder breaks a new and glorious morn.
Fall on your knees! Oh, hear the angel voices!
O night divine, the night when Christ was born;
O night, O Holy Night , O night divine!

Truly He taught us to love one another,
His law is love and His gospel is peace.
Chains he shall break, for the slave is our brother.
And in his name all oppression shall cease.
Sweet hymns of joy in grateful chorus raise we,
Let all within us praise his holy name.
Christ is the Lord! Then ever, ever praise we,
His power and glory ever more proclaim!
If there is a more powerful, full-on, public proclamation that "Christ is the Lord!" I'd sure love to hear it.  I bet that one would make me tear-up too, while kneeling.
Yet I'm also aware of something missing in our standard offerings of songs at Christmas time.
The ones we've got are wonderfully, powerfully, rightly clear about the reality of Satan and brokenness and the impact of Jesus' incarnation on our sin, souls, life, death, and sometimes even on the whole of creation.
But what about the impact of the Incarnation on our work, on the labor of our days that makes up at least a third of our lives?  There's less sung about here.  We need songs that explore the continuity of this world and the next, that connect more clearly the First Advent and Second Advent, that explore the contours of the New Heaven and New Earth, and the place that our vocations take in the coming landscape.  We need songs that remind us that our work matters to God, and that Christmas speaks to that part of our lives too.  Inasmuch as we see clearly how the Incarnation furthers God's mission of redemption, we need more songs to sing together that show how the Incarnation informs our vocation and furthers the mission of God too.
I'm certainly not a songwriter, and haven't written one song in my life.  But of course poems are a part of songs, and that I can try, however falteringly.   
O Happy Day!
When Christ comes (O Happy Day!),
When the Second Advent is no longer hoped for,
What then shall be of our world bound work?
What then the fruit of our sweated toil?
Much of it, no doubt, will be dross consumed
For not every effort will have been our best worship.
But some (O Happy Day!) shall remain
Refined as all else by fire,
Surviving the kiln as clay,
And made lovely, an offering, of worth, still working
On that Happy Day.
As simple sap becomes amber
And carbon pressed to a jewel becomes,
So our work will be burned and tried
To show its true worth when Jesus comes,
On that Happy Day.
Then shall it offer its worship well too
As we shall, voice body and heart, purified.
All shall be well indeed,
On that Happy Day!
---
"SOUNDINGS" posts are aimed at considering together topics that are important for our society, for the Church, and for our own spiritual journeys. To 'take a sounding' is a nautical term about using depth to determine where you are and where you're going.  These writings are designed to do just that.  Please share this post with friends you think might appreciate it.  If you would like to get SOUNDINGS posts from me sent directly to your inbox, click here.