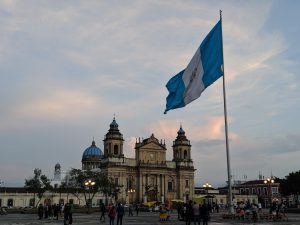 At Coracle, we are committed to the idea that the work we put into cultivating a vibrant inner-relationship with God is never just for our own benefit; that relationship is always meant to flow outwards into the brokenness of the world around us as acts of generosity, restoration, and hospitality.  In other words, we believe in "Spiritual Formation for Kingdom Action."
This Advent Season, the Coracle Community is coming together to offer a Christmas blessing to our mission partners in Central America.  We are committed to raising $6,000 to be spread between communities in Guatemala and Honduras who have been very negatively impacted by both the ongoing pandemic and several major hurricanes that struck this fall (See: Nate Bacon's Soundings Seminar from earlier this year).
This gift will directly bless around 600 people!  With $6,000, our missions partners will be able to do ALL of the following:
Provide 12 families in the communities of Berlin and Sumpango, 12 families in Guatemala City, and 20 moms in Quetzaltenango with Christmas baskets.
Provide 50 pairs of shoes for children.
Provide school supplies and enrollment scholarships for 16 children
Provide food staples in large quantities to 100 families in Honduras
Provide construction materials to families to help with extensive damage from Hurricane Iota, also in Honduras
If we are able to SURPASS our $6k goal, then there is even more opportunity to help with the repair of two local vehicles used for ministry in Guatemala, and also with a ministry to sex workers organized in Quetzaltenango.  See the letter below from our mission partners, Nate and Jenny Bacon, for more specific details on how this gift will be used to make those communities a little more like the Kingdom of God this Christmas.
We hope you will consider helping us spread the love of Christ to our Central American brothers and sisters this Advent and Christmas!