In the very early hours of December 24, 2017, my mom–JoAnn Neburka Haley–passed on from this life to the next, having lived 83 years on this earth and forever in the world to come.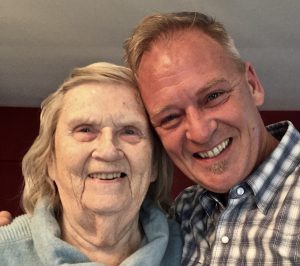 It was not a surprise to us, we'd known it was coming these past two years and these past couple of weeks.  My brother recalls not many days ago when Mom woke up after a particularly difficult spell, and was disappointed to not be in the presence of Jesus!
She was ready and well-prepared to go, and fully anticipating Heaven with confidence and curiosity, and shared with me "I don't think I have any regrets."
Her last words, whispered to my sister, were "I love you all."
Mom got to say her fare-wells to all who were dear to her, and we all got to do the same, to say we love her and hear the same.  Two weeks before she passed, I was able to take my whole family out to see her, and to say things I'd want to be sure she knew.  Knowing I'd never be able to remember it all, I put them in a letter and read it to her, face to face, eye to eye, heart to heart, tears to tears, joy to joy.  Then I gave it to her and put it in a place she could see it, and know.
It echoes things I wrote to her on her 70th birthday: "Mom, you've done such an exemplary job in mothering, and not only this, but also in being a wife and grandmother as well.  I hope you take great pride in your family, and the deep and good impact you have had on all of us….I've never doubted your love, care, concern, and belief in me, and this is no small thing.  I can't even conceive of what it would be like to have a mother who didn't love me or wasn't interested and committed to my life.   I think all us kids would say that.   You have a lot to be proud of on your 70th birthday.  You've lived and loved well, and I do hope this gives you deep satisfaction as you look back over these many decades of faithfulness."
JoAnn Haley–my mom–was a faithful wife and mother, and a devoted and faithful follower of Jesus.  She is with him now, knowing more peace and joy than she'd ever known on earth.  With that I am deeply comforted, and with the knowledge that I will see her again.   At death Christians don't say good-bye to each other, we sing "See you in the morning!"