To the American mind, the caste system is almost impossible to comprehend.  Because of our Declaration of Independence it is engrained (though inconsistently applied) in our national psyche that 'all men are created equal'.  In Nepal because of Hinduism, this is not believed, at all.  Fundamental to Hinduism is the belief the belief that all people are profoundly unequal, with devastating consequences for millions.
The highest caste, the Brahmins, are the smallest percentage of the population, and have the greatest control over it.  The lowest caste here Nepal, the Dalits (famously known as the "Untouchables"), comprise perhaps 20% of the population yet have no representation in government.   These are the landless, the hardest working, the subsistence laborers, the poorest of the poor here, the shut out, the often bonded or trafficked or prostituted, the demeaned.  No Hindu of a higher caste would think to touch a Dalit, or do anything but speak down to them if they spoke to them at all.
Against this darkness the light of Jesus Christ throws a bright light creating stark contrast.
Our pilgrimage team drove four hours from Kathmandu to Dhading, a region hard hit by the earthquake in 2015, and then another 45 minutes into the hills.  We came to visit a rural and recent village comprised of Nepalis living on the border of Tibet who had to be relocated after their homes were destroyed in the quake and land rendered too unstable to remain.
They are some of the Dalits here, but in the eyes of God, they are beloved children.  Some of them have come to know this by becoming Christians.  We came simply to love them with relief supplies of blankets and rice, and just…presence.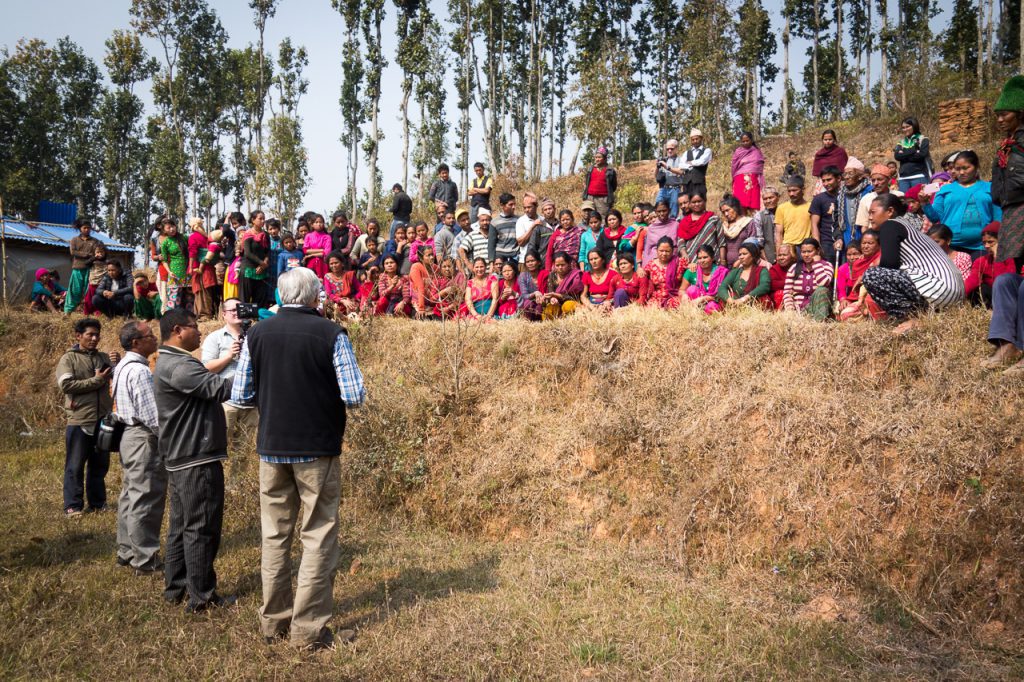 There were many greetings of "Namaste" ('I see the God in you') or 'Jaymashi' ('Praise the Lord'), and many smiles and bright eyes as we passed out the supplies.
When the people gathered and Bill Deiss brought words of greeting to them, they stood on a terrace above him.
As we prayed for healing for various individuals, we laid hands on them.
We would come to find out later that these things–normal in our eyes–for these dear Nepalis would have carried more meaning than we could have known.
For them, a visit from white Americans would have been to have been visited by someone of higher caste even than a Brahmin.
Literally for them, no one of a higher caste would have spoken to them from beneath them.
Literally for them, they would have never been touched by someone they perceived to be above them.
But on this day both things happened.
And it felt like living the life of Jesus in real time, going a far distance to the so-called lowly so that those who have been trained to believe that they have no worth could know they are of infinite worth.  Jesus had a habit of touching the untouchables, like when he healed lepers.  He had a habit of speaking from below, like the Sermon on the Mount or from a boat.
I'm not sure who was more blessed on the day we had the privilege of visiting God's precious children in the villages of Dhading.  I don't think it matters.  We all caught a glimpse of the beautiful truth that changes everything, that we are all, each one, beloved children of God.
[We are here in Nepal in March 2017 on a joint mission pilgrimage offered by Coracle and the Anglican Relief and Development Fund.  Bill Deiss is the Executive Director of ARDF.  Bill Haley is the Executive Director of Coracle and a North American trustee of ARDF.]