'Soundings'-An Irregular Seminar Series
Offered by Coracle and partners
The "Soundings" seminar series are times set aside to consider together topics that are important for our society, for the Church, and for our own spiritual journeys. To 'take a sounding' is a nautical term about using depth to determine where you are and where you're going.  These seminars are designed to do just that.  Most of them are held in northern Virginia.
Soundings we have held in the past have included: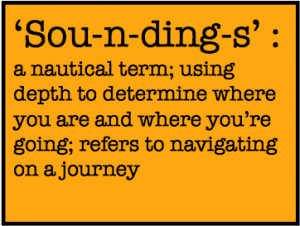 "Catholics and Evangelicals Together" with Bill Haley & Soren Johnson, in partnership with the John Paul II Fellowship
Evangelicals have so much to learn from Catholics, and Catholics have so much to learn from Evangelicals. Our traditions not only enrich each other, they need each other. We need each other. Jesus prayed in for unity in his body (John 17), and we are called to something greater. We will explore various aspects of each Christian tradition that the other will benefit from and explore why greater Christian unity matters today in the United States. Offered in partnership with The John Paul II Fellowship.
"Saved for What: The Breadth of the Gospel" with Bill Haley & Soren Johnson,  in partnership with the John Paul II Fellowship
Being forgiven for our sins by the blood of Jesus so that we might be saved is an essential part of the Gospel, but it is not the only part of the Gospel, nor even it's central assertion. There is so much more that we've been saved for, and an over-emphasis on some parts of the Gospel means we might miss even more compelling parts, which can lead to less-than-alive faith and life. We will explore the breadth of the Gospel, and why the good news really is good news!
"Towards Peace in the Holy Land" led by Bill Haley and Todd Deatherage, with The Telos Group
How can Christians in America approach the complexity of Israel/Palestine wisely, prayerfully, Christianly, and in a way that actually makes for peace? How does one pursue paths forward that are pro-Israel, pro-Palestine, pro-American, and pro- peace?
"Engaging Laudato Si by Pope Francis" with Fr. Fred Edlefsen, Rev. Bill Haley, and Mr. Soren Johnson
Held at Saint Agnes Catholic Church in Arlington, VA. Offered by Coracle in partnership with the John Paul II Fellowship. This seminar engaged Pope Francis' encyclical on creation care.
"On Race in America and a Christian Response" led by Bill Haley and Erin Clifford with special guests.
Ferguson, Charlotte, Cleveland, Charleston, Minneapolis, Dallas, Baltimore, and so many other places across the United States have seen profound and painful conflicts and tensions around issues of race and justice in the past two years.  Lives have been lost, trust has been destroyed, fear has emerged anew.  And now more disturbing incidents involving racial difference and diversity are on the rise. This particular seminar is offered in order to explore and understand contemporary issues regarding race in America and a distinctly Christian response.   We're doing this together as members of Micah Group sponsored by Fuller Seminary that met together for two years discussing the intersection of worship, justice, and preaching.   
The Discipleship of Peacemaking led by Bill Haley and Todd Deatherage of Telos Group
What does it look like to live as disciples of Jesus in a very divisive time? Why did Jesus say "blessed are the peacemakers"? We discuss why Jesus asked us to be peacemakers in the world, and why it matters that He came into the mess. We'll have time for discussion around the topic of peacemaking in today's world and the different ways that can be practiced and applied to a wide range of situations. While conflict roils around our world…and our country is as divided as its been in a long time…and racial tensions still boil…and each of us have broken or challenging relationships in our own lives…the call to the spiritual discipline and Kingdom action of peacemaking couldn't be more timely.