"Blessed are those whose strength is in you, whose hearts are set on pilgrimage." (Psalm 84.5)
At the he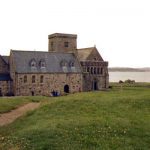 art of Coracle's mission is helping draw others into a greater awareness of their particular journey with God and equipping them to be 'contemplatives in action'–to think deeply about the presence of God in all things, everywhere, and then to respond, embodying God's presence wherever he sees fit.  A very powerful, even life-changing, way to be formed like this is is to undertake the ancient Christian spiritual discipline of going on pilgrimage or mission.
Very simply, a pilgrimage is a journey undertaken for spiritual purposes, or as we define it, a pilgrimage is "a journey with God, to meet God, together."    
Sometimes such pilgrimages are taken to places that have been recognized as sacred by millions for centuries, such as the island of Iona, or the city of Rome, Israel, or the Camino de Santiago in Spain.   "A journey with God, to meet God, together" to places like these will always deliver a profound spiritual encounter.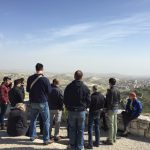 Yet there are many other places that are sacred in the world–because God is present there–but where it may be harder to recognize because of the brokenness that surrounds it.  Places like India, Nepal, so many places in Africa and Latin America, and Palestine.  To take "a journey with God, to meet God, together" to those places can be a pilgrimage as well.   We seek to be of help on these 'transforming missions' in many ways, and perhaps the most important is  simply to be present and to pray.
"Our vocation as Christians includes the vocation to be in prayer at the place where the world is in pain.  We are to stand or kneel at the place where the world, particularly our brother and sister Christians, are in pain and need…We are called, in other words, to become in ourselves places where the living, loving and grieving God can be present at the places of in pain in his world and among his children.  We are called  to discover the other side of pilgrimage:  not only to go somewhere else to find God in a new way, but to go somewhere else to bring God in a new way to that place."  (N.T. Wright, The Way of the Lord)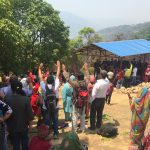 Since the very beginnings of Coracle, we've looked forward to Coracle offering more journeys of various types to various places for many reasons.   Some will go to the classical sites, full of history and stunning beauty and the palpable sense of the presence of God.  Others will go to places of stunning brokenness, and we'll find the beauty there and bring God with us and find God there. In each one we'll be open to however God wants to meet us, shape us, and use us.
And then we'll come back to where God has placed us, and having learned to find God where we've traveled and served him there, we'll be all more able to do it in our own backyards.
For more information or to express interest, email Karla Petty at karla@inthecoracle.org.
——————————————————————————————————————————
While exact timing, itineraries, and partners, are not fully determined, the below gives a picture of what we are working toward over the next three years.
| Estimated Time |  Place |  Partner/Leaders |  Short Description |
| --- | --- | --- | --- |
| Mar 30-Apr 8 2019 |  Israel/Palestine | Telos Group |  Exploring the historical sites of Jesus' life and contemporary realities. |
| April 13-14 2019 | DC and Virginia | Arrabon | Walking the pathways of the 18th and 19th century slave trade in the DC and Virginia area visiting sites of historical import in -DC-Alexandria-Richmond-Charlottesville and the Corhaven Graveyard. |
| August 4-11 2019 | Portugal/Spain | Karla Petty | Walk the Way of St. James (Camino de Santiago de Compostela) through coastal towns in Portugal ending in Santiago de Compostela. Buen Camino! |
| TBD | Rome | Tara Haley and Katie Lundstrom |  A unique pilgrimage to a center of Christian history |