And Just What Is Corhaven Anyway?
In the summer of 2009, God surprised Tara and me (Bill) with an invitation to move from the inner-city of Washington to the Virginia countryside in the Shenandoah Valley. It was an offer we didn't see coming, and could not have (nor would have) strategized, nor made happen save by Providence. But it was deeply right, and continues to be. God knows what we need, even when we don't. So we moved to a new home—Corhaven we'd call it—not only a place for our family but also a place for others, specifically "a place to meet God…a place to be met by God."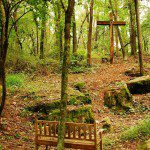 Corhaven sits near Mt. Jackson between Front Royal and Harrisonburg just off I-81, set in between Massanutten Mountain and the Alleghenies. It is 17 acres of land, some with buildings on it and some fenced pasture, and the most part being a forest bounded by Holmans Creek with trails for walking and places for sitting to reflect, read, and pray. People come for a variety of experiences for varying lengths of time, some for a session of spiritual direction, others for a day of retreat either guided or unguided, others stay overnight and some stay several nights or even longer. Others come as part of group retreat. And our experience has been that most of these folks really encounter God in a meaningful way. That's no surprise, for the Bible promises us that "He rewards those who seek him." (Heb. 11.6) Our prayer is often, "God, lead those here who can find you here" and he does, and they do.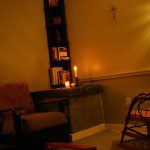 For people who come on retreat we provide a small, basic, one-room cottage some steps from our house. It is quiet and cozy with a bed, a desk, and a couple of chairs—a simple space with much silence. The shower and bath are in the house. Recently we've able to complete the renovation of 2000 square foot, two story building on the property, formerly the wood shop of the original owner who built it in the 1920s. This has made it possible to offer group retreats as well as have more retreatants at the same time, and make the library more accessible for use and have a comfortable place for worship services.
We don't call Corhaven a retreat center per se, but rather 'a retreat home', for it is in fact our home, but it is indeed a place for retreat for many already and more to come as God's visions continue to unfold. We're glad to be good stewards of this gift of a small slice of God's good earth by taking care of this piece of it, and also by making it available to those on the journey seeking God.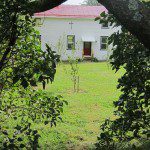 Just what does Corhaven mean? "Haven" is obvious, a quiet place of refuge and sanctuary, a place of shelter, safety, and peace. Over the centuries, haven has often been used as another word for a port or harbor, which implies a place on a journey where the traveler can come in out of the wind and waves and find rest, and refreshment. The Latin word for "heart" is cor. Our heart is the center of our selves, and in some usages it is another word for soul. It is the depth of our souls and selves. So put together, Corhaven is a place of shelter and sanctuary for the heart. This implies the presence of God, for as St. Augustine said, "Our heart is restless 'til it rests in You." And God is here. As the plaque on our front porch reminds us, "Bidden or Not Bidden, God Is Present."
So, can you come? Yes, absolutely, if you come seeking God. Since we moved out here we've indeed had a steady stream of retreatants, directees, and guests, so it may take some time to compare calendars and find an open spot, but we do our best to accommodate requests. Our assumption is that if a person finds their way to Corhaven, it's precisely because more of God's story is unfolding, for them and for us too.