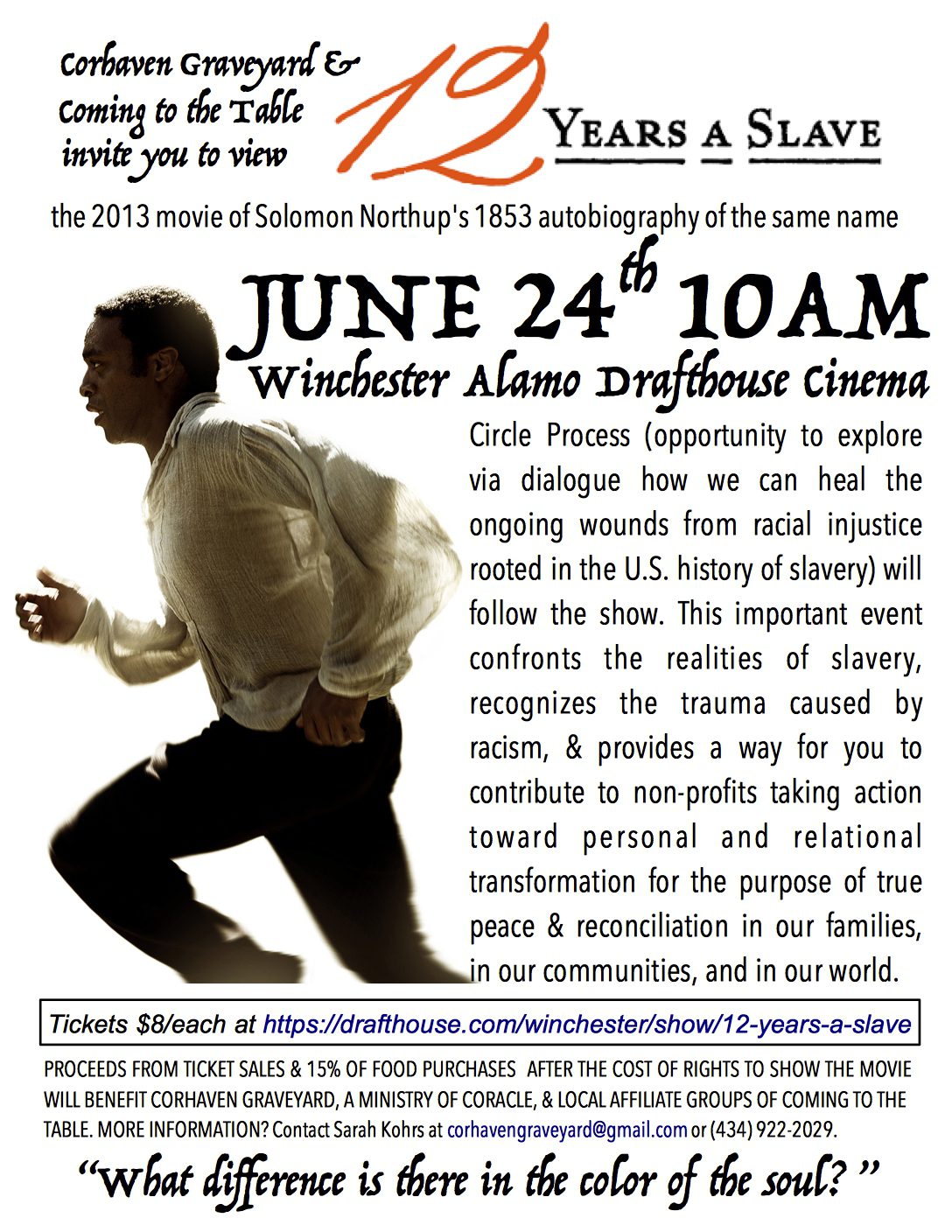 Juneteenth is the oldest known celebration commemorating the ending of slavery in the United States.  Dating back to 1865, it was on June 19th that the Union soldiers, led by Major General Gordon Granger, landed at Galveston, Texas with news that the war had ended and that the enslaved were now free.
For the past months, the Corhaven Graveyard Book Club has been reading  "Twelve Years a Slave," the autobiography of Solomon Northup's experience of a free citizen kidnapped and sold into slavery for twelve years. On Saturday June 24th at 10am we're showing that same movie at the Alamo Drafthouse Cinema in Winchester, VA to raise awareness of the roots of racial division in our country-the institution of slavery-and to have good conversation about our response to it.  After the movie we'll have an opportunity to explore via dialogue how we can heal the ongoing wounds from racial injustice rooted in the U.S. history of slavery.  It will be a good step forward toward personal and relational transformation for the purpose of true peace and reconciliation in our families, in our communities, and even in our world.
The movie will show at 10am. Tickets are $8/each and can be purchased in advance at https://drafthouse.com/winchester/show/12-years-a-slave.  Or just show up and by a ticket.   After the rights to show the movie are covered, proceeds from ticket sales and 15% of food purchases will benefit Corhaven Graveyard and local affiliate groups of Coming to the Table in the Shenandoah Valley and DC/VA/MD. For more information contact Sarah at corhavengraveyard@gmail.com or 434-922-2029.
We are doing this event in partnership with Coming to the Table and Coracle.  We hope you will join us!
Here's a flyer you can share:  Juneteenth movie at Alamo
A link to the event on facebook which you can share via social media.
And use the image above to post to Instagram!