It's here!   Labor Day Weekend!  And with that, summer is officially over, which is a bit of a bummer.  But at least we have a holiday weekend to enjoy, and not just to enjoy, but also to reflect on the various jobs that we have and vocations God has given us, and orient ourselves again to seeing all of our work as worship.
So, make this weekend really count, not just for the relaxation of it but also for the reflection during it on your own life and work and how your work is God's work.  A couple of ways to do that.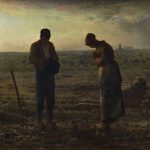 1.  We LOVE this painting, "The Angelus", potato farmers pausing to pray, consecrating their work and asking for God's blessings.   One of our board members, Kate Harris, wrote a fantastic reflection about for our friends at The Washington Institute, and I'll leave it to her to tell you all about the painting and the meaning for us in it.
2.  Take some time one morning to reflect on this from Richard Foster and apply it to your work:
"Work places us into the stream of divine action. We are "subcreators," as J. R. R. Tolkien reminds us. In saying this… I am referring to the sacredness of the work itself. As you and I care for our daily tasks, we are glorifying God in the work itself. When Martin Luther gave us his revolutionary teaching about the priesthood of all believers, he was referring not just to the fact that the plowboy and the milkmaid could do priestly or liturgical work, but that the plowing and the milking themselves were priestly work…
3.  A few weeks ago I preached at my church, The Falls Church Anglican, on "The Priesthood of All Believers", something I'm passionate about.    Take a half hour over the weekend and give it a listen, and fill in your "Second Word Blank".  You'll see what I mean.  Folks have been unusually encouraged by this one.
4.  Check out this "Why" statement about Common Good Things.  It's all about the way God meant things to be, including our work and including business.
Have a great weekend!   And have a great time with God thinking about these things.  He loves you.
On the Journey,
P.S.: Next year, we hope to put more emphasis on "Vocation", and we're figuring out how to do that.  Stay tuned and pray for us!